Shure Rebrands Crowley and Tripp Ribbon Mics As KSM Series Models
Shure has announced two new ribbon models, the KSM353 and KSM313, which are tailored for capturing vocal and instrumental performances, both in the studio and on stage.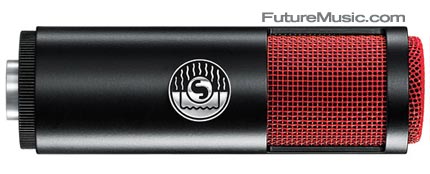 The new KSM353 and KSM313 use a new patented ribbon material known as Roswellite (Are you kidding us? ROSWELLite?? Yeesh! — Ed.), which offers higher tensile strength and more resilient shape-memory properties than a traditional foil ribbon since it came from space.
Shure's recent acquisition of Crowley and Tripp ribbon microphones provided the technical know-how to release these models under the Shure umbrella. While conventional ribbon microphones can be damaged by loud sounds, Shure claims the 'shape memory' of Roswellite ribbons enables it to withstand very high sound pressure levels over extended periods of time without damage.
"We chose to maintain the two Crowley and Tripp Roswellite models, the El Diablo and the Naked Eye, and bring them into our KSM portfolio as the KSM353 and KSM313," said Chad Wiggins, Shure's Category Manager for Wired Products. "We're manufacturing these models true to the original Crowley and Tripp design using the same production process, fixtures, tooling, and materials."
Hand assembled in the USA from state-of-the art transducers, transformers, and metals, the KSM353's ribbon assembly provides rich low frequency response, natural midrange, and a rising response in the upper range for superior presence. And, it's bi-directional polar pattern is extremely uniform and symmetrical.
The KSM313 uses a "Dual-Voice" ribbon assembly, which enables the user to choose from two different sound signatures – addressing the front of the microphone delivers a warm, full sound that is ideal for many instruments while addressing the rear of the microphone results in a bright, articulate sound that compliments vocals.
Features:
» Revolutionary Rosellite ribbon material: Provides superior fidelity in extremely high sound pressure environments.
» 30 – 15,000 Hz frequency response: Ideal for capturing vocals, acoustic, and amplified instruments.
» Bidirectional polar pattern: Remains uniform throughout the frequency range.
» Custom-wound double-shielded transformer: Provides high output with minimum RF interference.
» Mahogany storage case: Protects the microphone while not in use.
» 'Monocle' swivel stand mount (KSM313 only): Accommodates a variety of microphone orientations.
» Spring-loaded suspension shock mount (KSM353 only): Accommodates a variety of microphone orientations and provides isolation from mechanical vibration.
Shure will manufacture ribbon microphones exclusively in the U.S. Shure will also assume responsibility for ongoing service and support for existing owners of Crowley and Tripp ribbon microphone products.
Shure's KSM353 Ribbon Microphone costs $3,320 and the KSM313 will set you back $1,560. More information on the Shure Ribbon Microphones.