Sony Officially Unleashes Walkman X-Series
Sony officially unveiled their new Walkman X-series Personal Media Player (PMP) that we previewed last week. And Slacker has wasted no time in announced that their Radio App is ready to rock on the new device.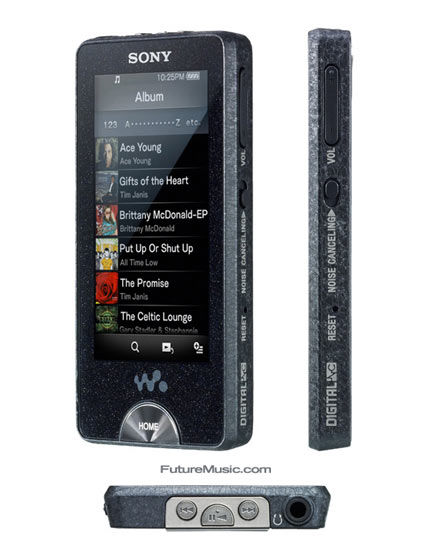 The new X Walkman's feature a 3-inch OLED touch screen, which has excellent color reproduction, high contrast, a rapid response rate, and a 180-degree viewing angle. Sony's X-series Walkman also contains integrated digital noise canceling technology. The accompanying 13.5mm EX headphones house a small microphone to measure intrusive noise so the DNC filter can create an optimal inverted sound wave that Sony claims reduces up to 98.0 percent of the noise. Sony's DNC software engine works in all environments, but the device does have presets for airplane, bus/train or office modes which use different filters in the digital signal processor specifically tuned for these surroundings. As an added benefit, users can turn on the noise canceling feature for peace and quiet even without listening to music.
The X-series Walkman broadens options for enjoying content from multiple sources, including many download stores, the FM tuner, personal collections and embedded services like Slacker Radio. Using Slacker, users can select up to three stations and hundreds of songs will get pushed to the device at no charge. When the stations are refreshed in a Wi-Fi area, the content is buffered and cached on the Walkman player so those tunes can be enjoyed anywhere and everywhere. Slacker also features rich metadata allowing users to access artist info while listening to a song and customize channels with "favorite" and "ban" buttons for the service to suggest content. (See our Slacker Radio Review for more information.)
Support for popular audio and video codecs is enhanced because the X-series Walkman devices play protected Windows Media Video (WMV) files, and supports other video codecs such as AVC Baseline (H.264) and MPEG-4, allowing you to enjoy movies and video clips from your other media collections as well as paid music services. It also comes with Content Transfer software which simplifies "drag and drop" transfer of non-DRM music, videos, podcasts and playlists from online music services such as iTunes to Walkman players.
Sony claims you get 33 hours of battery life with music playback and up to 9 hours of video playback. However, all together now, "your mileage may vary."
Utilizing built-in Wi-Fi technology, the X-series Walkman Video MP3 players let you access an Internet web browser, subscribe to and refresh podcasts, and search for and playback content on YouTube. The Walkman X utilizes a hybrid interface with both touch panel operation and a hard key system to improve upon the navigation experience. Select buttons like volume, play/pause, rewind/fast forward, lock and noise canceling enhance usability when the device is in a backpack, purse or pocket for quick operation without looking at the display.
The Sony X-series Walkman video MP3 player will be available in June and come in two storage flavors: the 16GB NWZ-X1051 for $299 and the 32GB NWZ-X1061 for $399. More information on the Sony X-Series Walkman.