Propellerhead Software Releases Record – We Told You So!
Propellerhead Software has announced Record, their digital audio workstation that we told you about nine days ago. Record has set its sites on Digidesign's ProTools by offering a new DAW that combines recording and a software mixer console based on a SSL 9000K with a rack of audio processing options that can be customized to your own work flow.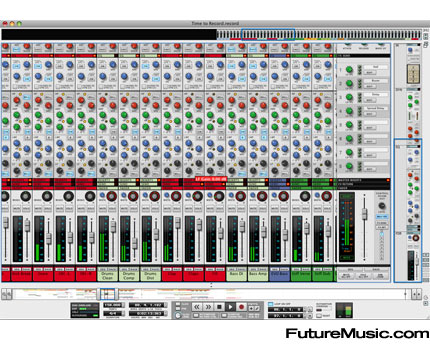 Built for independent minded musicians, Record has the feel of a full-on recording studio with the streamlined simplicity of a tape deck. For guitar players, the built-in virtual POD from Line 6 (Propellerhead's US Distributor) brings a wide range of quality guitar amps and cabinets. Record's software mixer's sound is faithfully modeled after the renowned SSL 9000K hardware with flexible routing, full dynamics, EQ, advanced effects handling, complete automation and dynamic multicore audio handling for more efficient computer processing.
But don't think for a minute that Propellerhead's left Reason out of the equation..
Together, Reason and Record form a self-contained creative environment for musicians and producers alike. If you have Reason registered and installed on your computer, all your favorite Reason devices will automatically be available within Record's ever-expandable, multiple racks.
When using Record and Reason together, your Reason song files can be opened from within Record, letting you continue on your creations where you left off. When you save your work as a Record project, the Reason devices become part of the Record document.
When using Record and Reason together, Record becomes fully ReFill compatible – use patches from any ReFill sound library directly in Record. Bringing your masterpiece to a friend or a studio not using Record? Record label wanting stems? Record's Bounce Mixer Channels screen gives you a plethora of options, letting you export all your mixer channels as stems for use with any recording software, including exporting your tempo track! And with ReWire, you can transfer audio data between additional computer applications in real time. All parts of Record fully support Propellerhead Remote, letting you effortlessly control any part of the software from a MIDI keyboard or control surface.
If you use a Remote-supported control surface with Record, all you need to do is connect the control surface and set it up once, typically by selecting a single factory preset. After that, the control surface is ready for use. All knobs and sliders will automatically and dynamically be mapped to sensible parameters in Record, and for control surfaces supporting two-way communication, Record supports motor faders, dynamic displays and LED indicators.
Record comes with premade setups for many of the most popular control surfaces and keyboards on the market. However, if you want to be in full control you can also choose to override these mappings for individual parameters, to tailor your setup for the project or situation.
Propellerhead Software's Record has begun beta testing and will be available for purchase worldwide on September 9, 2009. Record will be available through all Propellerhead dealers worldwide at a suggested retail price of $299 / €299. More information on Propellerhead Software Record.