Metric Halo Unveils ULN-8 – Audio Processing Converter & Interface
Metric Halo has unveiled their new ULN-8, an audio processing converter and interface that features archival-grade converters, enhanced digitally controlled ULN (ultra low-noise, high-headroom) preamps, dedicated analog-domain sends and returns, analog domain 7.1 monitor controller, AES interfacing, and extensive front panel control with metering.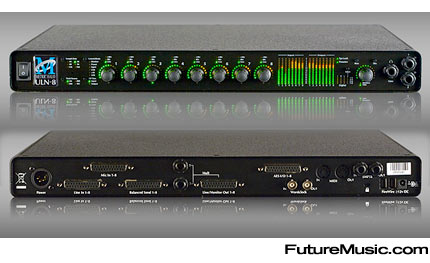 Building upon the experience gained with the Mobile I/O 2882 and ULN-2, Metric Halo set out to design an integrated product to literally provide the best performance in each of its component sections while still providing all of the benefits of tight integration in a single field-capable package.
With everything you need to record, mix, process, and master audio (just add your DAW of choice and transducers), the ULN-8 is your one-stop solution for recording, editing, mixing and mastering suites. Even if you are using a DAW or recording system that does not support the ULN-8 FireWire interface, the unit's standalone operation and standard AES and analog interface allow you to use it as the Audio Front End and Monitor Controller for Pro Tools, standalone and PC-based recording systems.
Features:
» Eight channels of archival quality, zero-phase distortion DC-coupled, calibrated 192k A/D
» Ten channels of archival quality, zero-phase distortion DC-coupled, calibrated 192k D/A
» Eight channels of Metric Halo digitally remote-controlled, high-headroom ULN-R preamps
(-130dBu EIN)
» Two channels of exceptional ultra high-Z direct input for instruments
» 8in/8out 192k AES interface
» Full-featured front panel tactile control surface for standalone & connected operation
» All inputs switchable between line and mic
» Eight channels of analog domain send (for analog S/R before conversion & analog preamp output)
» Metric Halo's exclusive per-channel selectable Character
» Word clock in and out
» Digitally-controlled analog domain monitor control
» Full-featured fifteen segment precision metering
» SMPTE I/O channels
» MIDI I/O for direct connect of Mackie control protocol control surface
» Integrated mixing and deep instantiable DSP processing (includes full +DSP license)
» Rock-solid stability – mature, real-world-tested firmware, & time-tested fifth-generation Mac OS software and drivers
» FireWire interfacing with stable, low-latency drivers (FW400 & FW800 supported)
» Exceptional power performance (only 32 watts – DC powerable)
» Low mass (9 lbs. / 4.1 kg.)
» Extremely compact (everything in 1 RU) & Rack-mountable
The Metric Halo ULN-8 costs $5,995, and will be available tomorrow. More information on the Metric Halo ULN-8.