Propellerhead Refreshes ReCycle – Still Too Expensive In Today's Market
Despite advances by Ableton and other software concerns, Propellerhead is still trying to keep ReCycle relevant in the marketplace. The original Beat Parser is getting a refresh via a new look and streamlined packaging.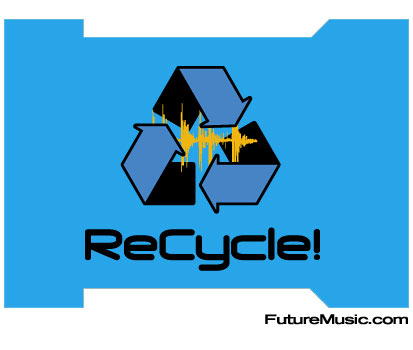 Propellerhead also tasked ASK Video to include an hour long video tutorial that assists users on ramping up their ReCycle skills. In the tutorial, ASK Video's Mike Baggley takes users step by step from installing and setting up ReCycle to turning concrete-rigid loops into musical modeling clay in no time.
Enhancements:
» ReCycle includes Reason Adapted version 4
» ReCycle now comes with an hour-long video tutorial from ASK Video, taking you from basic installation to slicing your first loop and using it in a sequencer program.
Although Recycle is eventually going to go the way of the Dodo Bird, it was a game-changer for anyone working with Akai samplers back in the day. In fact, several key developments in the progression of electronic music have Recycle to thank for their emergence.
However, at $249 retail, it's way too expensive to even be considered by most electronic musicians today. That coupled with the fact that the US distributor, Line6, doesn't even give the Propellerhead lineup a second glance in terms of marketing and promotion, means that Recycle is even closer to falling into the drain in which it's been circling for the last couple of years.
More information on Propellerhead Recycle.