NUSofting Announces Strings Dream Synthesizer
NUSofting has announced Strings Dream Synthesizer, a new instrument plug-in that claims to reproduce "the infinite array of rich, analogue pads from the most famous strings machines in synthesizer history – emulating the classic Eminent Solina as well as its sister keyboards from Elka, Crumar and even their Japanese cousins."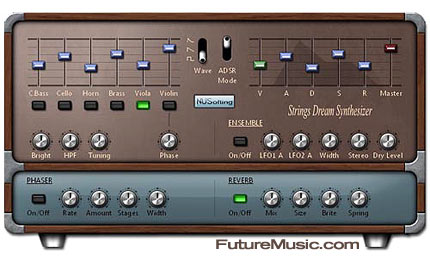 Strings Dream Synthesizer does not use samples. Instead the "octave divider" circuitry typical of those early polyphonic synths has been natively emulated, so that all sounds are computed in realtime in true VA fashion. The fundamental "Ensemble" effect (like the vintage Solina chorus) accurately follows the architecture of its hardware counterpart, including the BBD chip behaviour for truly rich modulation. However, it has been extended for a wider range of "chorus" effects.
Although the interface is nothing to get excited about, NU claims the Strings Dream Synthesizer is easy to use. Its layout and features take their cue from and expand upon the familiar Solina design, with only the necessary controls to achieve the textures of the other strings machines.
Features:
» A full ADSR envelope generator and Waveform selection
» Volume fader and switch for each of 6 stops (C.Bass, Cello, Brass, Horn, Viola and Violin)
» The fader for each stop allows an almost infinite number of mixtures
» A powerful parameter to tune the relative phase of Violin wave against the other voices
» Brightness and highpass filters are also adjustable
» More performance flexibility with MIDI velocity and polyphonic mode selectable
» Chorus "Ensemble" effect
» Four-stage Phaser for those famous "Jarre pads"
» Exclusive reverb with the ability to morph on request to that "trembling" sound of the vintage spring reverb units
No pricing or availability has been announced. More information on the NUSofting Strings Dream Synthesizer.