NACSound Rolls Out The Freewheeler – Stereo Wireless Speaker
Ron Arad, in collaboration with F. Pellisari, has created a wireless outdoor speaker, dubbed the Freewheeler. Made of piano-quality, lacquered wood, the bi-amped Freewheeler it has been constructed to provide full stereo sound, that's Hi-Fi to you Grandpa, from the single enclosure, instead of two separate speakers.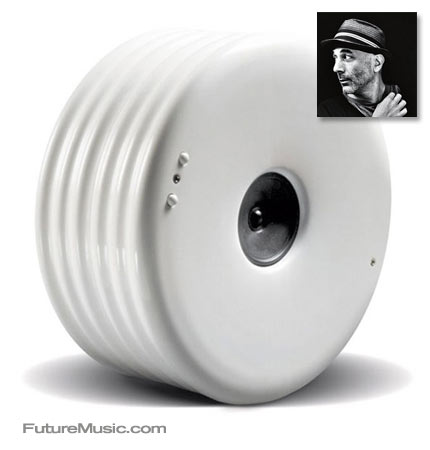 Thanks to its wireless configuration, the stereo signal is broadcast to the Freewheeler from your stereo by a two-way FM transmitter. A receiver inside the wheel picks up the signal, filters and divides it into two stereo channels and then sends the two signals to the bi-amplifier, which distributes the sound to the two multi-directional coaxial speakers.
NACSound is manufacturing the unique speaker per order and it takes 1-2 months to build. The Freewheeler is available in "NAC Orange" or Cool White, but it can customized in other colors.
Specifications:
» Claimed Frequency response: 52-21.000 Hz +3dB
» Max. signal power: 112 dB
» Average running time: 8 hours
» Recharge: 14 hours
Power supply: 13.8 volt cc 1A
Reception range: 200 meters
Arad was born in Tel Aviv in 1951 and is currently the Professor of Design Product at the Royal College of Art, London.
The NACSound Freewheeler will run you about $16,000, and is available now. More information on the NACSound Freewheeler.