Stanton Officially Unveils SCS.3m Multi-Touch Digital DJ Mixer
Stanton DJ has officially announced the SCS.3m, a multi-touch mixer component to their 3 series of Digital DJ controllers. The SCS.3m is a portable new MIDI controller with a control surface that emulates the layout of a traditional two channel mixer, but is completely touch-sensitive and features the StanTouch technology introduced in its deck controller counterpart, the Stanton SCS.3d.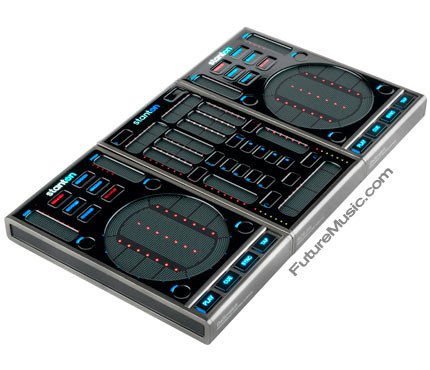 Each SCS.3m will ship with a new version of Native Instruments' Traktor LE that is based on the latest TRAKTOR PRO software platform, allowing the SC System 3 products to be used together to create a full DJ system with intuitive control over the robust software features introduced with Traktor LE.
The SCS.3m incorporates all of the functions of a two channel DJ mixer, plus a host of new performance features made possible by Stanton's touch sensitive control surface. The touch sensitive sliders can be used to tweak EQs, or instantly switch the sliders to control FX parameters within Traktor LE. The wide, touch-sensitive crossfader allows for seamless slow blends between decks, but is also able to detect multiple finger presses, allowing for quick transform effects all in one control surface.
The multicolor buttons can easily perform transport controls for starting and stopping playback, setting loops, doing EQ kills, or engaging effects without requiring a separate trigger controller. All of the visual indicators stay 100% in sync with applications supporting MIDI feedback, allowing for clear indication of the software settings and positions in low light situations. Additionally, the unique surface provides a new level of durability, since there are no moving parts to wear or break.
The SCS.3m is designed to interface seamlessly with Native Instrument's Traktor Mixing software including full application feedback from Traktor. The SCS.3m can be used as a standalone controller for basic software mixing, but when paired with the SCS.3d deck controllers, provide a completely mobile MIDI control rig. With a built-in powered USB hub, the SCS.3m can also be connected to one or more SCS.3d controllers. Additionally, special custom presets for other popular DJ applications are available for free download on the Stanton website.
Thankfully, Stanton's PR company has dropped the ludicrous "Da Mix" from the name and opted, like us, to just refer to it by it's model name. Unfortunately, Stanton is still sticking by their inane marketing department's moniker, so you may see it referred to as "Da Mix" in advertisements and in stores. Don't let this put you off. The SCS.3d is an extremely affordable ($199 Street), portable and fun product. Look for our full review next week…
The Stanton SCS.3m costs $249 and will be available in stores next month. More information on Stanton SCS.3m.