SSL Officially Announces The X-Desk 16-Channel Analog Mixer
Solid State Logic has announced the X-Desk, a new small format console that we reported on just prior to MusikMesse. SSL has done quite a bit of chest-pounding at Messe over this mixer, but probably missed a nice segment of the market by not including A/D conversion.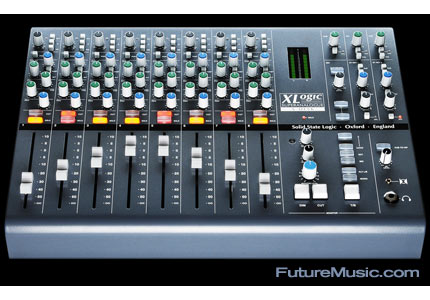 SSL claims the X-Desk fulfills the demand for "an extremely high quality, world class, no audio quality compromise, SSL Mixing Desk in a compact, versatile, portable unit." X-Desk combines a 16 channel SSL SuperAnalogue summing mixer with a compact analog audio hub for your studio, and includes 100mm faders, artist and studio monitoring with Dim & Cut buttons, Stereo and Mono Aux sends, channel and Master Bus Inserts and accurate bar graph level metering.
X-Desk is hand built in the UK with an all metal chassis and high quality controls and components. Several X-Desks or X-Desk & X-Racks can be cascaded via D-Sub connection to expand up to 150 inputs on mixdown.
Features:
» SuperAnalogue technology
» 8x dual input Mono Line channels | 16 channel mixdown
» 8x Insert Send/Returns on channels
» Stereo CUE and 2 Mono Auxiliary Sends
» Cascade with X-Rack and other X-Desks for bigger systems
» Talkback – for artist communication with Dim & Cut buttons
» Independent Main and Alternate stereo monitor outputs
» SSL Stereo Mix Bus with External summing and Inserts
» 2x Stereo Returns with Level, Pan and Bus assignment
» Stereo External input on XLRs
» iJack front panel input for portable playback devices
» High quality internal PSU
» D-Sub Channel I/O connection for Studio integration
» RF Screened I/O connections
» 19″ Rack mount ears included
SSL's X-Desk will be available sometime in May 2009 for £1,675 / €2,299. More information on the SSL X-Desk.