Beat Kangz Unveil New Beat Thang Features, Shipping Date
When we first got wind of The Beat Thang by the Beat Kangz, a Nashville-based collective of producers and rappers, it was hard to ascertain if their portable MPC-like product was going to be a reality, or merely just gangaware. However, after performing the sound design for Zoom's Streetboxx, tha Kangz got ambitious!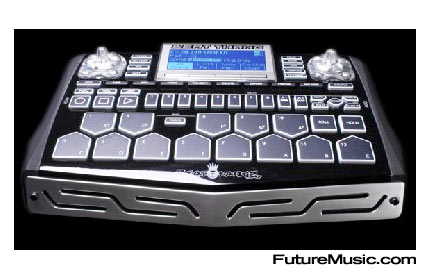 "The Most POWERFUl, Portable, Real Beat Machine Ever Made!!"
Well, the Kangz clearly don't have a confidence problem, but they apparently have run into some production issues. They claim that the feedback they received from their NAMM Hotel Room exploits have yielded some production "enhancements" such as an all metal chassis and a full-color LCD screen.
Features:
» Sampling
» 3.5 inch video grade color LCD
» 16 Track MIDI sequencer
» Over 3000 Blazin' Brand new sounds and 500 production ready Platinum beats and loops created by The Beat Kangz
» Sleek design and styling with customizable "Paintz" and "Grillz"
» Convenient, light-weight portable design with internal rechargable battery
» USB In/Out
» Pitch and Mod Wheels
» On Board FX including Reverb, Delay, Automated Filters and tons of Crazy "Freak FX" including "Chopped and Screwed"!!!!
» On Board "Mo Bang" Mastering with EQ and Limiting
» 256 MB Ram standard
» 2 High Speed SD Card Slots (16 Gigabytes/ card)
» Export Beats to a Mac or PC (supports AIFF and WAV format)
» Intuitive user interface.
» Easy to use
We'll let the Beat Kangz describe their new product with their full flava:
All in all the Beat Kangz have stuffed over 3000 sounds and over 300 production ready HIT beats, patterns and loops into THE BEAT THANG. Each sound can be edited, fine tuned and manipulated with fully functioning Digital EFX (EQ, Compression, Reverb, Delay, Filter and "FREAK"). But that's not the end of it. THE BEAT THANG is the most advanced beat production device with the fattest (and phattest) pre-loaded sounds AND onboard SAMPLING and Re-Sampling. With USB in and out and Mic/Line input, you can add your own Samples. Create your own custom Kits with up to 8 layers per pad (each layer can have its own pitch, pan, Volume, cutoff and res). Our Key Span Feature allows you to take one or more samples and instantly make an instrument that spans an entire 88 note keyboard. Want bass on one octave and strings on another? No problem! It's simple.
Don't forget the 16 Track MIDI Sequencer that can Sequence internal sounds or External sound modules. I know what you are thinking…Only 16 tracks?? Yeah, well we got that covered! No need to put your kick, snare, and hi hat on separate tracks anymore. PAD MUTE and SOLO!!!
No more confusing programs and loading of SAMPLES, KITS and BEATS to deal with. Everything on your SD cards is available in Real time with NO LOAD TIMES!
Mobile? Yes, that's right. THE BEAT THANG is portable, baby. The rechargeable lithium ion battery gives you up to six hours of portable playing time. Bang out some beats on the plane. Tighten up your edits on the train. When you're ready to roll to the show, the studio, or the library, THE BEAT THANG rolls with you. You can even play it on the bus when you travel to visit yo momma. (priceless! –Ed.)
THE BEAT THANG captivates the senses with its sleek, sexy styling, user-friendly controls and slammin' sounds. Make it your own THANG with custom Paintz and Grillz TM. Add it to your DJ rig and create live remixes on the spot… even in the dark. Every button is back lit. Put it in your studio and add the hot, new Beat Kangz sounds to your latest creations. It's Your THANG.
Now here's the kicker:
"I Challenge any and all Presidents of our competition to a beat making battle. I'm ready any time if you got the ballz to battle a KANG!!! " – AJA Emmanuel, President, Beat Kangz Electronics
(I actually think we could sell tickets to AJA Emmanuel taking on Roland's Mr. K at next year's NAMM show… –Ed.)
Updated: 3/26/09
Although, the Kangz state they "have conspired with Live Nation Recordings head Bob Ezrin and Nashville real estate magnate David Crabtree to establish an innovative music technology startup called Beat Kangz Electronics, LLC (BKE)," the initial run of the product will be manufactured in the USA and then outsourced to China.
Despite the development ambiguity, we salute any manufacturer who has enlisted a crew like the Beat Kangz to come up with the product design for a Hip-Hop oriented MPC product. Solely utilizing a Japanese engineers and product designers, and/or aging, white marketing executives is not going to yield a next-gen beat-making tool for the street.
In addition, it appears from the video that AJA and company have infused the Beat Thang with some very useful features and exciting production attributes. A portable MPC is something that has evoked the imagination ever since Dr. Dre appeared kicking out beats while on an airplane in a beer commercial. Even though most industry watchers knew that the MPC2000 he was using was not battery powered, it did reveal the potential of such a portable device. Not long after, the battery-powered MPC500 debuted.
The Beat Kangz also claim that the Thang will have "more top Secret Features and Surprises that we dont want our sleezy, thieving corporate competitors to know…. but we'll tell ya soon!"
The Beat Kangz Beat Thang costs $1,299 and may be available some time this Summer. More information on the Beat Kangs Beat Thang.