Doepfer Readies Dark Energy Analog Synth
Doepfer is readying Dark Energy, a monophonic stand-alone analog synthesizer, for its debut at MusikMesse. The sound generation and all modulation sources are 100% analog, only the USB and Midi interface contains digital components.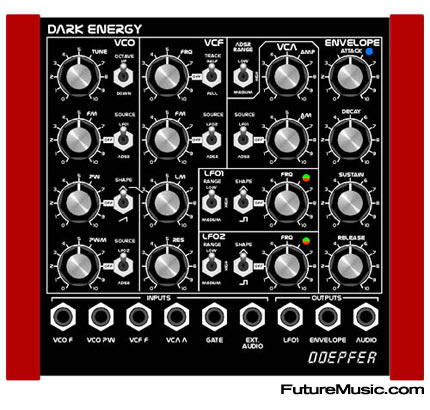 Dark Energy is said to be built with a rugged black metal chassis with the obligatory – Hey, I'm an analog synth! – wooden side plates. High quality potentiometers with metal shafts are utilized and each potentiometers is fixed to the case.
Dark Energy is also available as module A-111-5 for usage within the the modular system A-100. The only differences are the missing power supply and USB/Midi interface and the module uses the standard distances between the controls. The VCO frequency CV input (1V/octave) and the Gate input are normalled to the corresponding signals of the A-100 bus via jumpers. The jumpers can be used to interrupt the internal bus connections.
Doepfer's Dark Energy will reportedly cost around €400 and is set for release this Summer. More information on Doepfer Dark Energy.