SwitchEasy Debuts Thumbtacks iPod Mics
SwitchEasy has released ThumbTacks, a new tiny recordable mini-mic for use with Apple's Nano 4G or Touch 2G.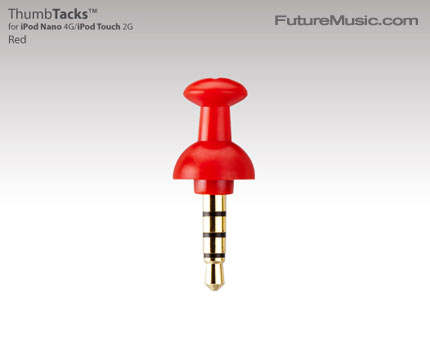 Simply push your ThumbTacks into your 3.5mm headphone jack and your iPod will automatically turn into a voice recorder. Perfect for taking class dictations, office meetings, or even covering the next big story.
Features:
» Ultra small Microphone
» Unique "ThumbTack" design
» Outstanding quality sound recording
» High-quality gold-plated non-corrosive plug
» Works with third party Apps
At 1.21 x 0.46 x 0.46 inches overall size, its no surprise that ThumbTacks is one of the smallest microphones in its category. With its unique "thumbtack" pin design it not only looks great but is also the perfect shape to easily push and pull out of your iPod.
SwitchEasy's ThumbTacks come in 3 colors Black, Red and White and cost $12.99. More information on the SwitchEasy ThumbTacks iPod Microphone.