Wacom Announces Nextbeat DJ Controller
Has the DJ Controller market JUMPED THE SHARK??
Wacom, better known for their graphics tablets, has announced the nextbeat DJ Controller. Wacom's nextbeat is a fully integrated professional DJ system, incorporating touch sensor controls and live performance functions — including the ability to remove the wireless center "pod" and "performance mix." (Oh, dear… –Ed.)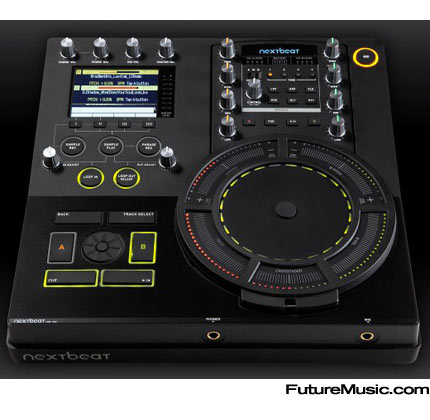 Wacom believes that the wireless portable control unit of the nextbeat, which enables performers to move free from the main device will result in more dynamic and energetic live performance inside DJ booths. We don't think sophisticated DJs will really want to "rock out" with this device, but it could have interesting possibilities for VJs or performance artists…
Wacom will be showing off the nextbeat at the Winter Music Conference in Miami and is scheduled to release the controller in Europe and Japan this summer. No pricing has been announced.
More information on the Wacom nextbeat