The Audiorama Is Back!
Grundig claims "The design is from the 70s, the technology from tomorrow." We don't know if that's exactly the case, but we do like seeing a reissue of the iconic Seventies speaker. The archetypal Audiorama always looked a lot better than it sounded, however, with today's technology, the original concept may be realized. The new model is more elliptical and has a dented and chromed silver band, but it appears enough like the original to evoke a nostalgic reaction to anyone who witnessed an Audiorama in the flesh.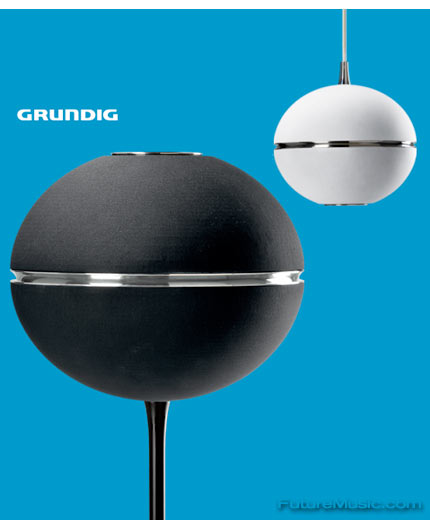 To provide the Audiorama's "surround sound," two bass/mid-range chassis and a hyperbolically-deflected treble system provide a 100% propagation through 360 degrees. A special design protects the treble sounds from the acoustic pressure of the base tones.
Features:
» Acoustic principle: Closed loudspeaker with 360° surround sound characteristic
» Sine/audio output: 120 watts / 180 watts
» Rated impedance: 4 Ohm
» Number of loudspeakers: 3, (1 treble & 2 bass/mid-range speakers)
» Range: 50 – 30.000 Hz
» Weight: 7 kg
The rated load of the new Audiorama is 120W, with a maximum load of 180W. The 1″ silk dome tweeter can transmit even the finest signals, and the two long excursion bass mid-range speakers form a closed bass system that enables extremely fast impulse processing. A cast aluminium cage with multiple rear ventilation ensures minimum stream loss, while the anodised aluminium membrane provides maximum stiffness and pure base sound.
The speakers can be hung from the ceiling, or supported on a stand. Two colors are available: black and white.
Grundig's Audiorama is available now. More information on the Grundig Audiorama.