Ultrasone Releases $1500 Headphones – Recession, What Recession??
Ultrasone is spitting in the face of the bleak economy. The German concern has announced a new special edition headphone, dubbed the Edition 8. Ultrasone claims: "Never before has such attention to detail been given to every aspect of a headphone design; every material and component used in the Edition 8 is second to none." For $1500, let's hope so…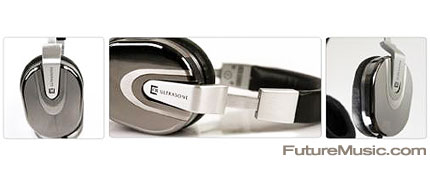 The Edition 8 is an elegant, black and silver closed-back headphone that employs Ultrasone's latest S-Logic Plus technology that results in an impartial acoustic feeling, which allows the listener even more of a spacious tonal perception. Designed with the money-is-no-object audio connoisseur in mind, the interior ear cups are covered in fine Ethiopian sheepskin, which provides the most isolation of any leather, while the outer ear cups are covered in Ruthenium, known for its brilliant metallic sheen and durable properties.
Features:
» Principle: Dynamic / Closed
» Impedance: 30 Ohm
» Driver size: 40mm Titanium plated
» Magnet: NdFeB
» Frequency range: 6 – 42.000 Hz
» SPL: 96 dB
» Weight (excl. cord): 260g
» USC Cord length: 1,2m (OFC Cable)
» USC Extension cable 4m (OFC Cable)
» 3.5mm gold plated plugs
» Adapter 3,5/6,3mm gold plated
» ULE technology
These special edition headphones contain MU-Metal shielding (ULE technology) that reduce the amount of radiation directed to the listener by up to 98%, as compared to conventional headphones. Each Edition 8 headphone is individually stamped with its own serial number & comes in a leather bag for storage and transportation.
Ultrasone's Edition 8 headphones cst $1,499 and are available now. More information on Ultrasone Edition 8.