Roland Premiers VP-770 – Vocal Keyboard
Roland has premiered the VP-770 at NAMM. The successor to the VP-550, this "vocal keyboard" allows a single musician to create realistic backing parts that range from futuristic electronic vocal textures to emulations of large-scale gospel choirs and beyond.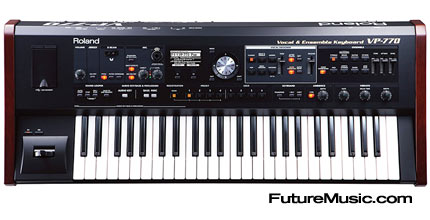 The human voice is the most expressive musical instrument of all, so why not use it as a tool to create ultra-realistic and expressive "virtual vocals" with words generated from your own voice? Whether you need one voice, a full choir, or surreal vocoder-like layers, the VP-770 can deliver the interactive, expressive vocal backing you need. The VP-770 is also equipped with world-class string and brass sounds, which can be blended together with the vocal effects.
One of the attributes of the VP-770 is its SuperNATURAL brass engine, enabling authentic performance never achieved before in a keyboard. Control every sound and element of the performance, including ensemble part levels, pan assignments, and EQ settings for each instrument, plus performance nuance such as Growl, Noise, Stability, and more.
The VP-770 is ideal for musicians who perform alone or in small groups, and who need an interactive, real-time backing chorus. It's also great for film and TV music composers who are challenged with time and budget can use the VP-770 to generate high-impact choral arrangements on the spot. Churches in need of a choir (or choir enhancer) will love the VP-770. The creative possibilities are vast, as are the time/money savings that this instrument can provide.
Features:
» New patches with significant improvements to the Vocal Designer
» Enhanced expression with SuperNATURAL™-powered Brass
» The latest "Auto Harmony" technology
» High-quality headset microphone (DR-HS5, included) significantly reduces feedback
» Premium mic preamps built in
» Roland's unique "Audio Key" – "Sound Looper" – and "USB Host"
» High-grade appearance with wood side panels and metal chassis
More information on the Roland VP-770.