Hercules Announces DJ Control Steel MIDI Controller
Hercules has announced the DJ Control Steel DJ MIDI Controller. The Control Steel is basically a Rmx without the audio action. Hercules claims that this controller works with both the PC and the Mac, but be advised: we found that the USB power on some MacBook Pro models came up wanting on the Rmx and failed to provided enough juice to ignite the LEDs.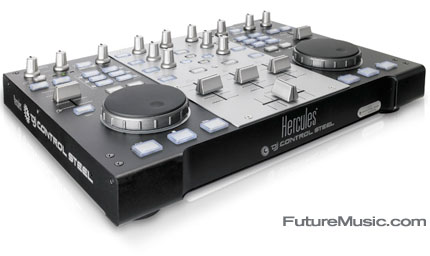 The DJ Control Steel was specifically created for professional bedroom DJs who already have an audio interface, but want to have fun DJing as a hobby. This two-tone black and silver surfaced controller features a removable, customizable steel center plate, solid metal casing and several controls for mixing.  The DJ Control Steel offers versatile MIDI control capability, however it is bundled with Virtual DJ 5 for PC and Mac.
Features:
» 2 Mixing decks
» Equalizer & volume knobs
» 2 jog wheels with adjustable resistance
» 13 Rotary switches
» 46 Push buttons including 5 effect buttons + 6 kill buttons
» 6 Faders including 1 general volume fader
 
The Hercules DJ Control Steel will retail for $299.99 when it bows on December 22, 2008 exclusively at Musician's Friend. More information on the Hercules DJ Control Steel.