Stupidity Files: Audix Releases Limited Edition Camo Mics
Audix has just launched what could be the year's most idiotic product the Limited Edition Camo Series of microphones. We hope they're very limited because the only singer we can see rocking out on one of these fugly puppies is Ted Nugent.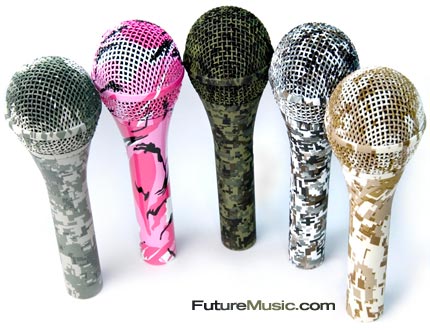 The mics come in the Winter Camo (Great for singing during Hoth battles –Ed.), Desert Camo, Jungle Camo, Forest Camo and Pink Camo flavors. The Pink Camo has already been spotted on the Hannah Montana television show in the hands of Miley Cyrus, so you know it's cool. The designs will be available for microphone models OM2 and i-5 and will be shipping in January 2009. Audix anticipates releasing the next set from the Designer Series over the summer of 2009. Oh, we can't wait…
"The Camo design idea has been in the works for some time now and has finally been perfected!" said Cliff Castle, Vice President of sales at Audix. "It's a totally new finish technique that results in not only a great looking graphic, but also a durable one. It's a great way to start off the New Year as well as a fitting tribute to our military and people in service." (Let me get this straight, you're using a camo microphone to honor the troops??! We can think of some better ideas give the troops a "fitting tribute" than these designer microphones, and I'm sure you can too Cliff –Ed.)
Audix's Camo Mics will set you back $149 for the OM2 and $179 for the i-5. More information on Audix's Camo Mics.