Numark Releases PRO SMX DJ Battle Mixer
Numark has released the PRO SMX, a new DJ battle mixer based on the specifications and input of the French DMC champion DJ team, Birdy Nam Nam. PRO SMX features a 100% analog audio path to preserve the natural warmth of vinyl.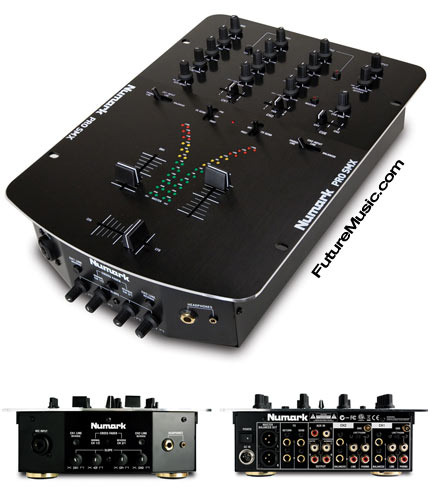 Features:
» Fully analog audio signal path with no A-D or D-A conversion
» PRO X FADE crossfader has adjustable end points and torque
» Pre/Post effects send and return
» Three inputs per channel including balanced 1/4″
» Three-band EQ per channel, switchable between +/-12 dB (EQ) and +12/-INF dB (kill)
» Crossfader and line fader-reverse switches
» Adjustable fader slope for each side of the crossfader and each line fader
» XLR and RCA master outputs
» Session input with volume control
» Gold-plated rear connectors
» Metal construction
The build quality of PRO SMX is highlighted by its rugged, metal construction, including a heavy gauge faceplate that is completely devoid of screws. The physical height of PRO SMX is optimized for use next to professional turntables.
A PRO X FADE crossfader employs conductive-polymer technology for long life and low wear. The VCA fader offers adjustable cut-in points, adjustable resistance and reverse, enabling DJs to customize the feel and function of the PRO X FADE in PRO SMX.
Gold-plated rear-panel connectors ensure solid cable connections, and XLR master outputs deliver a balanced signal. An entirely analog signal running through quality componentry results in high audio quality. Three inputs per channel, including balanced 1/4-inch inputs, permit connection of drum machines, samplers and other musical instruments with reliable signal transmission. An auxiliary Session input with volume control allows mixers to be daisy-chained for a collaborative scratch session.
A three-band EQ section is available on each channel, and is switchable between ±12 dB for traditional EQing or +12/-INF dB for use as frequency kills. A newly developed effects loop enables use of any external effects unit. Its intelligent circuitry senses the presence of signal and routes audio appropriately to eliminate sonic degradation resulting from phase cancellation.
Numark's PRO SMX is available now for $799. More information on the Numark PRO SMX DJ mixer.