SM Pro Releases V-Machine – VST Hardware Player
SM Pro Audio is now shipping their V-Machine VST player, a compact VST/VSTi hardware playback module designed to take plug-ins on the road or into the studio and access them directly without a computer.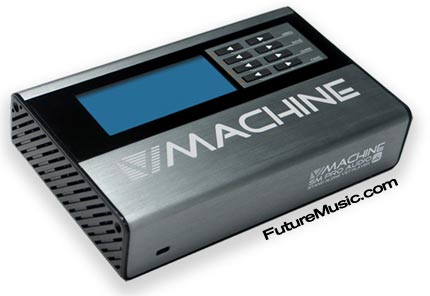 Features:
» External hardware host for Windows plugins (VST instruments and effects)
» Banks, presets (incl. chaining, layering, splitting) can be edited with the V-Machine or the host software
» Create synth layers and chain them with effects
» Connect nearly every MIDI-Controller to the V-Machine
» Multiple VSTi's can be combined
» MIDI learn functions included
» All effect and synth chains can be switched latency free
» USB-Ports for external peripherals
» Use software samplers and stream its content from any USB drive
» sensor to adjust the display's contrast automatically
Multiple plug-ins can be loaded into bank/preset memories of the V-Machine for immediate access and combined into chains, splits, and layers to create extremely rich and unique sounds. Full external MIDI controller support allows users access to available loaded plug-in parameter controls such as virtual dials, switches, and faders.
The V-Machine houses a host of connections in a sturdy metal chassis to hold up to the rigors of the road. Audio is handled by stereo inputs and outputs and a headphone output with dedicated volume control. Three USB connections handle computer transfers of VST applications, streaming of sample content from external hard drives, connection of USB controllers, and copy protection dongles. A MIDI-in jack is also included for the connection of standard MIDI controllers.
The SM Pro Audio V-Machine will ship with control configuration software compatible with Windows and Mac OS X as well as IK Multimedia's Sample Tank SE and a set of sound samples. Users can load up their favorite VST/VSTi plug-ins on their computer for auditioning, sound-set creation, and bank/preset memory assignment prior to transferring to the V-Machine for stand-alone use. Transferring plug-ins to the V-Machine via USB transfer takes care of all required user data and program memories. Once in the main unit, users have instant access to all instrument and effects for the stage or studio with great audio performance, hardware stability, ease of operation, and portability.
SM Pro's V-Machine is available now for $599. More information on SM Pro V-Machine.