M-Audio Reveals Luna II – Cardioid Condenser Microphone
M-Audio has announced the Luna II professional cardioid studio condenser microphone. The Luna II mic brings new features enabling users to capture a broader array of sound sources with greater detail and clarity.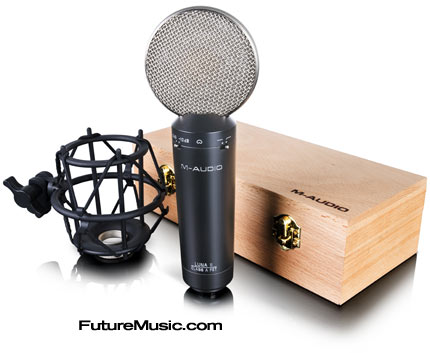 The Luna II microphone features Class-A, solid-state electronics and a large, 1.1" ultra-thin, 3-micron, evaporated-gold diaphragm with brass capsule, suiting it for vocals, guitar, piano and other instruments. The addition of a -10dB pad extends the maximum SPL to 140dB, allowing users to record intense sources such as kick drums, brass instruments and guitar amps. The new switchable low-frequency roll-off filter gently slopes to cut rumble and stand-transmitted vibrations. The microphone ships in a stylish wooden case and includes a heavy-duty shock mount.
M-Audio's Luna II microphone costs $399.99 and will be available shortly. More information on the M-Audio Luna II condenser microphone.