Sonoma Wire Works Releases FourTrack For iPhone 3G, iPod Touch
Sonoma Wire Works has launched FourTrack, a multitrack audio recorder for the iPhone and iPod touch (2nd Generation).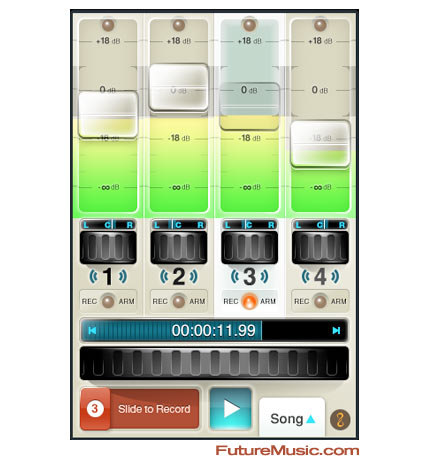 FourTrack is a songwriting and practice tool for singers, guitar players, piano players and other musicians who want to capture musical ideas and record songs on their iPhone. Plug in a microphone, arm a track, record, and repeat.
FourTrack works with the iPhone built-in microphone, a headset mic, or an iPod touch with a third-party mic and headphones. WiFi sync allows FourTrack recordings to be downloaded to any desktop computer with a browser. Tracks can then be loaded into any recording software (DAW) to continue working on songs. FourTrack is developed by Sonoma Wire Works, makers of RiffWorks guitar recording software, and by Retronyms, makers of the top selling Recorder iPhone app.
Features:
» 4 Track Recorder
» Track Length: unlimited
» Recording Quality: 16 bit, 44.1 kHz
» Calibrated Meters: accurately monitor record and playback levels
» Recording Clip Lights: ensure input levels do not cause distortion
» Calibrated Faders: accurately adjust playback level of each track
» Pan Control: move tracks from left to right
» Time Line: seek to anywhere in your song instantly
» Shuttle Wheel: accurately move within your song
» Slide-to-Record: prevents over-writing your tracks
» Latency Compensation: accurate to within 1ms
» Compressor-Limiter: automatically fattens sound of the output mix
» Song List: unlimited song count
» WiFi Sync: copy recordings to a desktop computer
Sonoma Wire Works FourTrack is available now for $9.99 via iTunes. More information on Sonoma Wire Works FourTrack.