Alienware Premiers Quad-Core M17 PC Notebook
Alienware has unleashed their new M17 notebook featuring the first-ever quad-core mobile CPU and ATI's CrossFireX graphics card.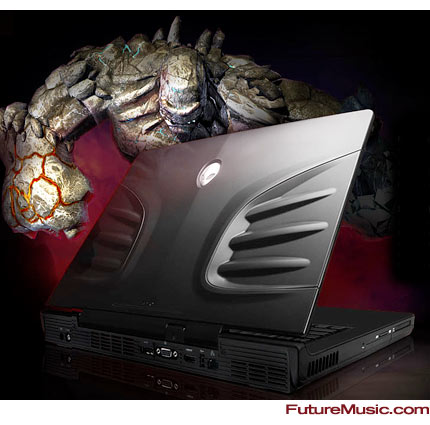 The M17 brings ATI CrossFireX to Alienware's notebook lineup for the first time ever. Delivering a leap in mobile graphics, ATI CrossFireX dual-GPU technology brings enhanced scalability and performance along with full DirectX 10.1 support. ATI PowerPlay allows the M17 to monitor GPU usage and adjust the graphics power according to current resource requirements
The Alienware M17 notebook is powered by the world's first-ever quad core mobile CPU. The Intel Core2 Quad delivers unrivaled power to the M17, supplying ample horsepower to the system so you can enjoy expanded multitasking abilities and faster speeds when taking on resource-intensive tasks such as working with audio, playing next-generation games, video editing and more.
With the Alienware M17, having the capacity to store all your files is the last thing you need to worry about. Dual 500GB drives in a RAID 0 or RAID 1 configuration take care of that. With a full 1TB, you can hold over 150 games, 250 full-length movies or a jaw-dropping 250,000 songs. In addition, all Alienware 7200RPM drives feature Free Fall Sensor technology to further protect your valuable data.
The M17 features up to 4GB of DDR3 memory for higher speeds and extreme multitasking with even the most resource-intensive games and applications. The M17 is designed for extreme entertainment. HD video and 3D games explode off the 17-inch LCD in Extreme High-Def 1200p resolutions. Disconnect your M17 and maintain a stable, high-speed connection with next-generation Draft-N wireless technology.
In the audio department the M17 features High-Definition Digital Audio, Integrated 4 Channel Support,
Up to 7.1 Support through the Digital Out, Two Speakers with built-in subwoofer.
More information on the Alienware M17 notebook.