Sugar-Bytes Announces Consequence – Synquencer For Mac & PC
Sugar-Bytes have announced the Consequence Synquencer, a new product that the German concern calls a "chord groovebox." The innovative company often takes two music concepts and fuses then together for a dynamic new product that pushes the envelop and Consequence appears no different.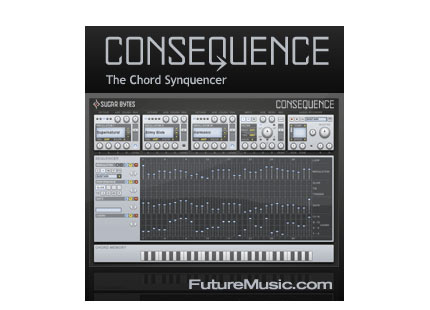 Here's how they describe the "flavor" of Consequence:
Chords are alternated, split up to custom arpeggios and turned into leg-driving basslines, amazing melodies or dreamy sound textures. The internal audio recorder keeps your ideas when they come or records loops or even full tracks. The sound library contains all possible kinds of instruments, from thick basslines to gentle violines. Combine these with individual triggering options for unheard sequences full of joy and groove! Combine sound-presets and sequencer-presets, an unlimited source of inspiration. Consequence is a composition tool which can create chordlines or whole songs on the fly, but also chords which are played via MIDI can be supersized using the innovative sequencing engine.
Now we know that this description doesn't convey specifics, but Sugar-Bytes does have a good track record, so we're going to cut them some slack…
Features:
» 3 sample-based oscillators with independent envelopes and gate selection for overlaying chords with arpeggios.
» 32-step sequencers for chord selection, gate, performance (arp, tie, multi-trigger, octave, glide) and modulation.
» New sound design features like polyphonic frequency-dependent sample rate reduction and oscillator aging.
» Included kick 4/4 kick drum for easy groove orientation.
» Multi-effect with 5 effects (reverse, chorus, phaser, delay, reverb).
» Master compressor (can be driven by 4/4 kick via sidechain).
» Monophonic and polyphonic 5-mode filter (lp, bp, hp, br, comp) with independent gate selection.
» Pattern change via MIDI note.
» MIDI input for sequencing chords in realtime.
» Easy chord creation via chordmaker, chord-recording and manual chord drawing.
» Audio recorder for session recording or for creating loops.
» Sound Library
» Split preset system can combine sound-, sequence- and chord-presets.
Sugar-Bytes Consequence costs €149 and will be released sometime in November 2008. It will be available for Windows and Mac OS X in VST and AU plug-in flavors. More information Sugar-Bytes Consequence.