Yamaha Hyping Tyros3 Arranger Workstation For NAMM 2009 Debut
Yamaha, in one of the earliest NAMM pimp jobs to date, is hyping their new Tyros3 Arranger Workstation keyboard. They claim playing it is like controlling a virtuoso musician who happens to play hundreds of instruments.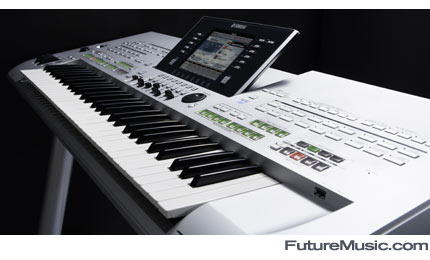 Equipped with the most advanced instrument voices that Yamaha has ever created, Tyros3 lets players simulate subtle sonic nuances and performance techniques associated with wind instruments, like legato, staccato and vibrato. Special Articulation Control buttons add pitch bend and glissando to note-on and note-off events. Yamaha dubs this technology, Super Articulation 2. Other voices are "borrowed" from Yamaha's flagship Motif synthesizer and a new guitar voicing algorithm rounds out the sonic offerings.
Almost every aspect of the computer-compatible Tyros3 has been redesigned and upgraded, from the sounds to the layout of the controls to the addition of faders and a TFT 7.5-inch VGA color screen. The Tyros3 now features organ sounds that replicate vintage tone-wheel organs with rotary speakers, and the new three-layer piano voice, drawn from a CFIIIs Concert Grand Piano, derives from the CVP Series of Clavinova digital pianos. Tyros3 can even recreate the sound of an acoustic piano with the top open or closed.
Super Articulation 2, created with Articulation Element Modeling, is capable of reproducing natural legato and staccato expression, vibrato, pitch bend and glistening glissando passages. The feature builds on Yamaha's MegaVoice technology, which added an element of humanistic playing techniques to recorded instrument samples. For the guitar, these include muted string sounds, finger slides, fret noises and harmonics. Wind instrument voices include the ability to add strategically placed breaths that sound like a person is performing, from passages played on clarinets and saxophones to the bent notes of a harmonica.
The board can also perform 450 musical styles with authentic corresponding sounds that blend into a backup band. With the One Touch Setting function, the Tyros3 delivers a arrangement with appropriate voices and effects just by pressing a button. The one-button Registration Memory option lets users easily recall favorite settings. Song Creator also helps orchestrate and arrange songs with the help of a 16-track sequencer.
Other features include a touch sensitive keyboard and studio-quality DSP effects like reverb, distortion and chorus along with the ability to perform one-touch recording onto the hard-disk recorder.
A USB port, conveniently located on the keyboard's front panel, facilitates easy computer connectivity for transferring song data from the Tyros3's 3.2 MB internal flash storage. The LAN port connects to Yamaha's online music portals, Internet Direct Connection, Yamaha MusicSoft and Digital Music Notebook. Users can download different song styles, instrument voices and upgrades to the Tyros3, along with sheet music, song books and software.
No official pricing or availability has been announced. More information on the Yamaha Tyros3 Arranger Workstation.