Numark Readies PT-01USB – Portable USB Turntable
Numark has announced the PT-01USB, a portable vinyl archiving system. The PT-01USB, a real "memorable" product name, permits users to listen to and transfer their vinyl records to digital MP3 files anywhere and anytime due to its portable design and ability to run on either wall or battery power. An RCA line output is provided for simple connection to any DJ, PA, or stereo system. An auxiliary input allows conversion of audio from any cassette deck or other audio source. A monitoring speaker is built-in for standalone listening.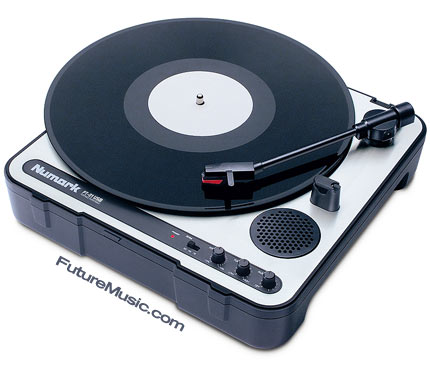 Numark's EZ Vinyl Converter 2 software is included, and is the simplest way to get audio from records into a PC-based iTunes music library. EZ Vinyl Converter 2 automatically separates individual tracks and comes with a free download of features Gracenote MusicID technology which names tracks automatically. EZ Audio Creator 2 is also included for Mac users. PT-01USB also comes with Audacity software for assisting users with reduction of clicks, pops and other noises in tracks.
Features:
» Plug and play USB connection to Mac or PC
» Protective dustcover and integrated carrying handle
» Fits inside a standard 12-inch record case
» Wall-powered with included AC adapter or battery-powered (six "D" cells, not included)
» Built-in monitoring speaker
» Belt-drive motor with 33, 45 and 78 RPM settings
» +/-10% pitch control
» Converts all records up to 12-inches
» RCA line and headphone outputs
» 45 RPM adapter included
» Cartridge included
» USB cable included
The Numark PT-01USB will be available in November for $99.95. More information on the Numark PT-01USB.