Yamaha Trots Out EZ-TP – Electronic Teaching Trumpet
Sorry Kids, Japan-only
Yamaha has released the EZ-TP in Japan. This electronic "teaching" trumpet was created to help students learn proper finger positioning with the help of an interactive Lighted Teaching System, since you don't blow into the instrument, merely hum to create the appropriate tones.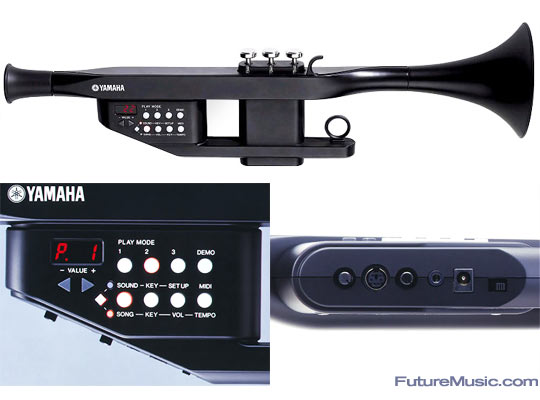 The EZ-TP is MIDI-fied, so there are some possibilities here, especially for circuit benders. The MIDI action allows users to upload songs to the EZ-TP to update the 21 that come pre-installed.
Features:
» 3 Modes: freestyle w/ valves, freestyle w/o valves, lighted teaching
» 22 Sounds
» 21 built-in songs for training
» Flash memory
» AC adapter for up to 120V (included) or 4 AA batteries (not incl.)
» MIDI (cable included)
» Song book Included
The Yamaha EZ-TP costs about $370 beans and you can buy it from the Japan Trend Shop.