Yamaha Audiogram Series Now Shipping
Yamaha is now shipping their new Audiogram 6 and Audiogram 3 Computer Recording Systems. These affordable audio interfaces are designed to turn a computer into an intuitive tool for recording from virtually any microphone, instrument or audio device. In addition, the company is offering a $20 rebate on the Audiogram when purchased with a qualifying Yamaha keyboard, guitar, or bass.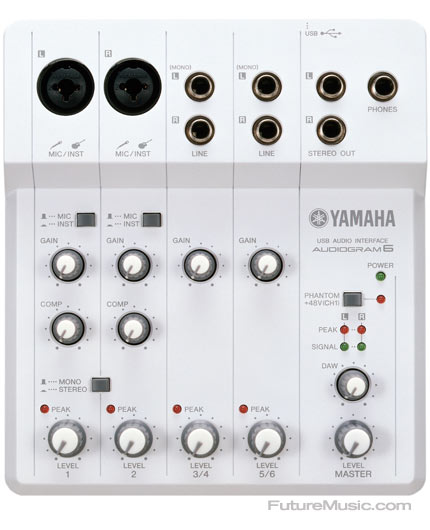 Packaged as complete computer music solutions, the Audiogram Series bundle together a hardware interface with software for recording and producing music. Recording music from instruments, microphones, CD players or MP3 players is as easy as installing the included 48 track Audio/MID music-production application, Cubase AI, on your computer and connecting the audio interface using the USB cable provided.
The Audiogram 6 features 2 XLR combo inputs with preamps, two stereo inputs, one-knob compression for dialing in the desired sound from microphones and instruments, and a USB jack for connecting to a computer. The compact Audiogram 3 features one phantom powered combo input switchable for microphones or instrument recording, a stereo input, a stereo and headphone output and a USB jack.
The Yamaha Audiogram 3 costs $149 and the Audiogram will set you back $199. More information on the Yamaha Audiogram Series.