Pioneer Announces HDJ-2000 Professional DJ Headphones
Pioneer has announce its new HDJ-2000 professional DJ headphones, which as a frequency response that Pioneer claims is optimized for DJ use. The HDJ-2000 contains a new 50mm driver and high-flux magnets to create a reported superior listening experience.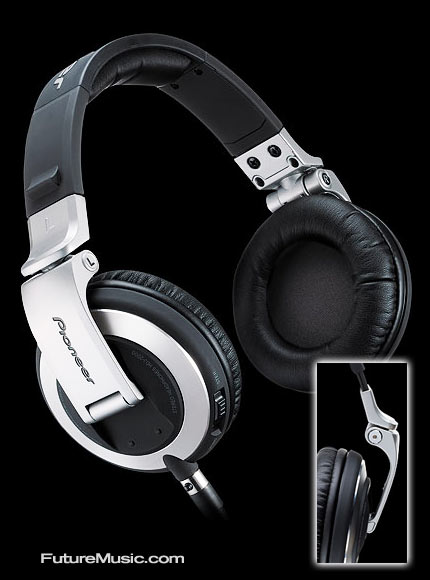 The one feature that's really worth noting is that Pioneer has redesigned the swivel on the phones making them much more robust. The rugged, yet lightweight swivel/fold mechanism is made from magnesium, not plastic. This could translate into a pair of cans that can actually take the abuse of DJing without cracking, a problem which as plagued other manufacturers such as Sony.
Each insulated ear-cup swivels a full 90 degrees using a new i-hinge with auto-return, which presents great flexibility, especially for DJs who prefer the on-shoulder monitoring, and includes a STEREO/MONO switch. Heat-sensitive, low-rebound urethane "memory" foam padding with synthetic leather cushions and an aluminium outer finish round out the aesthetic features.
The HDJ-2000 have the capacity for 3,500 mW of input, which means distortion is prevented, even at sustained loud volumes. The only major issue, that we see at the out set, is the price, which has been formally announced in the UK and Europe at £199 / €229 respectively. This enters a new price stratosphere that will be prohibitive to many DJs.
Features:
» High-fidelity sound and DJ optimized frequency response
» Flexible lightweight magnesium swivel/fold design, great to wear and transport
» Robust, heavy-duty build delivers reliability during extended use
» Memory-foam padding with comfortable protein leather surface
» Removable mini XLR connector allows the cord to be replaced
» Convenient STEREO/MONO switch for easy monitoring
» Precision matched sound for Pioneer's DJM mixers
» Radically unique style and approach to DJ headphones
Specifications:
» Type: Fully enclosed dynamic headphones
» Frequency response: 5 Hz to 30,000 Hz
» Impedance: 36 ?
» Sensitivity: 107 dB
» Maximum power input: 3,500 mW
» Driver units: ?50 mm dome type
» Cord: 1.2-m-long one-side connection coiled type (extended length 3 m)
» Plug: 3.5 mm 3P mini-plug (gold-plated, threaded type)
» Weight: 290 g (without cord)
» Accessories: Carrying pouch, 6.3 mm 3P plug adaptor (gold-plated, threaded type)
The Pioneer HDJ-2000 headphones will be available just before the holidays for €229 / £199. No US pricing or availability has been announced. More information on the Pioneer HDJ-2000 DJ Headphones.