Audio-Technica Announces ATH-CK100 Triple-Driver Earphones
Audio-Technica has announced their new ATH-CK100 earphones. The CK100's feature triple driver technology, which splits the treble, mid and lows to discrete drivers.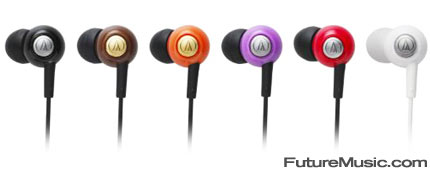 The ATH-CK100 earphones contain a titanium housing, and claim to be the "world's smallest" triple-driver earphones. Adding drivers to earphones is akin to razor manufacturers adding more blades to their razors with the idea that more is better. For the premium prices that these manufacturers are charging, which includes Ultimate Ears' Triple-Fi 10 Pro and Shure's E530, you'd think that these would be a slice of audio heaven. Unfortunately, that's just not the case. In our tests, one of the frequency ranges usually suffers and the earphones are often uncomfortable due to their bulk.
Audio-Technica's concept of reducing the size of the actual earphone is a step in the right direction, but the company still has to deliver on the fidelity range. The concern claims a frequency response of 20Hz-18kHz for the ATH-CK100, so we'll have to see how they stack up in during a TestDrive.
Audio Technica's ATH-CK100 will be available in Japan on November 21 for around €56,700 ($550) with a European rollout to follow.