Bug Drops More AudioWeevil08 Synths
Bug Brand has released 15 new AudioWeevil08 synths. The Weevil08 synth contains three lo-fi oscillators "quasi-ringmodulated together" with PowerStarve, Filter, 9-point-TouchPlate and an internal MiniAmp.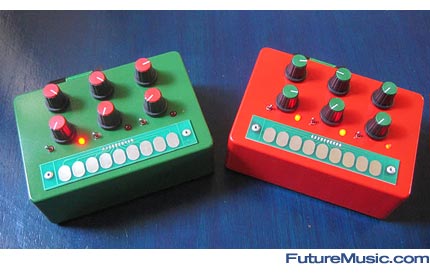 Features:
» Audio Input through a CMOS Overdrive/Distortion – a powerful input (1/4″ mono jack) suitable for guitar or line levels. There are two levels of drive offering clean or distorted sounds. The distortion crunches really nicely!
» Variable Response Wasp-style Filter – the filtering on the AudioWeevil is now full of character! Based on the famous old-school Wasp synth and offering variable Resonance / Q, Cutoff + LFO Modulation and Low/Band/Highpass outputs. There's a mixer going into it for balancing the Thru (Audio Input) and Ring (Weevil Sonics). There's also an output level control before 1/4″ mono output jack.
» Twin Oscillator Weevil Heart – this is the screechy ringmod centre of synthesis with many features. There are two lo-fi squarewave oscillators – one with LFO modulation – with Hi / Lo rate ranges which feed into a quasi-ringmod. The 2nd osc can be switched over to accept the squared audio input for wierd-assed ringmod processing. Added onto this are controls for: Power Starvation (with Stable or Instable modes), Ringmod Feedback (with three way routing switch) and an output Comparator to give stable levels even when starved.
» Modulation LFO – Osc1 and the Filter can be modulated by the wide-range tri/saw LFO. The two rate ranges offer modulation from superslow to audiorate and the waveform is switchable from Saw to Triangle to Ramp. There are independent modulation depth controls for the Osc and Filter
Screen printed Frontpanel with Contact Points – the professional frontpanel labels all functions clearly (13 dials, 10 switches) and presents a total of 16 body contact points allowing touchy chaos control of the machine.
Each Osc has a range switch for Hi tones or Lo clickety, and the combination of PowerStarve and responsive TouchPlate opens up a vast array of sounds that are played unlike any other instrument. The internal MiniAmp is now a standard feature and gives a pretty different tone/response from the output jack. Plugging in a jack conveniently disconnects the internal MiniAmp.
This is a newly standardised version built with pro-PCBs for improved feel and replicatability, available in Green or Red with chunky knobs in a sprayed plastic case and running off a single 9V battery. If you think this is up your alley, better order immediately Tom's unique synths sell out rather quickly these days. If you do come up empty handed, Tom has also released some T-Shirts…
The Bug Brand Weevil08 costs £100 plus shipping, and comes in Red or Green. More information on the Bug Brand AudioWeevil08 synth.