Home Grown Sounds Releases Astralis FX – VST Effect Plug-In For Windows
Home Grown Sounds, HG if you're nasty, has released Astralis FX, a new VST plug-in for Windows based on the Effects of the the Astralis Range of Synthesizers.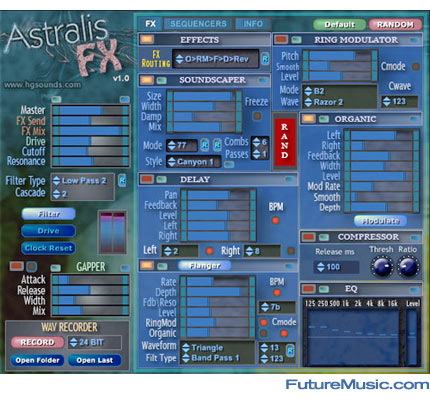 The FX in Astralis Synths play a large part in shaping their sound, the idea with FX is that the same can be applied to any Live sound source sent through the plug-in such as drumloops or Guitars etc. It also includes a Modulation Sequencer and Programmable Gapper for creating Tempo Based Rhythm effects. It can be used as an insert or Send and the Effects can be used in 127 different possible Routings.
Features:
» SoundScaper – Includes this Echo/Comb/Reverb effect capable of creating Fluidic Landscapes.
» Organic – Effect for Creating Modulating Organic Tones
» Flanger/Filter – Provides a choice of Flanger or Modulated Filter with a unique LFO with 100's of shape combinations
» Stereo Delay – Freeform or Tempo Synced
» Advanced Ring Modulator
» Compressor/Limiter
» Eight Band EQ
» Programmable Gapper – With attack, release, mix, width and a programmable step controls
» Modulation sequencer – can be assigned to Filter plus one other destination
» LFO – Unique LFO with customizable shape (plus over 300 predefined shapes) which can be assigned to Filter plus one other destination
» Resonant Filter – A choice of many filter types including low passes, hi passes, band passes, notch, hi shelf, low shelf and comb types, cascadable up to 8 times
» Drive – Auto Leveling Distortion
» Extensive Randomization options – Global Randomizer plus many local randomizers in each section.
» Default – Resets to Basic settings at the click of a button
» Direct WAV Recorder – Auto naming with a choice of 16/24/32/32 bit float bit depths
» 128 Presets
Home Grown's Astralis FX will set you back £10.00. More information on Home Grown Astralis FX.