Digidesign Announces 003 Rack Factory
Digidesign has announced the 003 Rack Factory, new model in the ProTools family that features eight quality microphone preamps.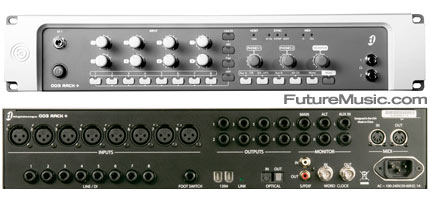 With 18 simultaneous channels of I/O, the 003 coupled with the Pro Tools LE system creates a serious project studio. Topping the I/O list are 8 quality mic preamps, which each feature switchable 48V phantom power and 20 dB pads, analog high-pass filters, and front-panel trim controls. For instruments and line-level connections, it offers eight analog DI/line inputs and outputs, including one DI/line input on the front panel for quick and easy plug-and-play recording. Digital connections include eight channels of ADAT optical I/O and two channels of S/PDIF digital I/O, along with 16 channels of MIDI I/O.
Dedicated studio monitor outputs and alternate control room outputs allow for connecting two sets of speakers, and dual discrete headphone outputs are ideal for providing separate mixes for the artist and recording engineer. Also included are a host of professional features, including BNC Word Clock I/O and alternate source input for external device monitoring.
003 Rack+ Factory comes bundled with Pro Tools LE 7.4 software; initial purchasers will be eligible to receive a free software upgrade to Pro Tools LE 8 when it becomes available. 003 Rack+ Factory also includes over 80 professional effects and virtual instrument plug-ins, supports a wide variety of third-party plug-ins and software options, and allows for powerful expandability through Digidesign toolkit software options.
Digidesign's 003 Rack+ Factory is now available for pre-order for $1,695. Digidesign has also reduced the price of the 003 Rack Factory to $1,495. In addition, Digidesign offers a unique hardware exchange program, allowing legacy Pro Tools LE and select competitive product owners to trade in their hardware for a discount toward the purchase of a new 003 system; the program will be extended to include the new 003 Rack+ Factory as well. More information on the Digidesign 003 Rack+ Factory.