Sizen Announces iM10 HD Surround Mate Processor For Personal Media Players
Sizen, a concern out of Taiwan, has released the iM10 HD Surround Mate, a small device that claims to upmix a stereo signal to a faux 5.1 surround sound that can be experienced via headphones. The device is based on their Euphony 3D surround technology, which Sizen describes as:
"Build-in EUPHONY DSP for Stereo Signal Transform to 3D Magic surround sound and Create full-fruit sound and personal theater experience." What exactly does that mean?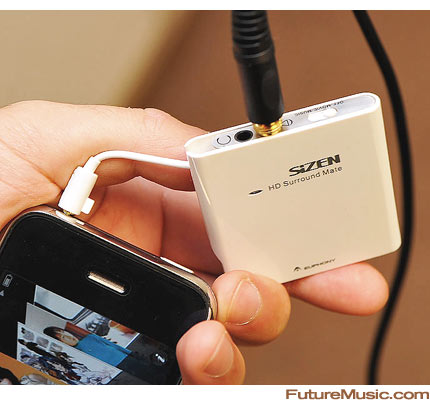 Details on the technology are sketchy at best, but Sizen claim that it employes "bass and treble reinforcement technology" known as AST, which separates the stereo in to multichannel sound and then processes the output with another technology dubbed DBEX. That signal then goes through two more DSP processes to "balance" the overall sound and create a "surround sound experience."
The iM10 measures 66.5×52.5×8.1mm and weighs 25 grams. The iM10 contains a built-in lithium polymer rechargeable battery, which Sizen claims provides 7.5 hours of usage. It also has 3 different operating modes for regular stereo sound or 2 x 5.1 modes customized for music or movie playback.
The Sizen iM10 will be available in Japan this month in six different colors schemes (black, silver, white, pink, blue, and turquois) and cost ¥9480. More information on the Sizen iM10.