Apogee Announces Symphony 64 PCIe Card
Apogee Electronics unveiled the Symphony 64, a 64 channel, 24bit/192kHz PCI Express card made to interface Apogee's X-Series and Rosetta Series converters directly to Apple's Mac Pro.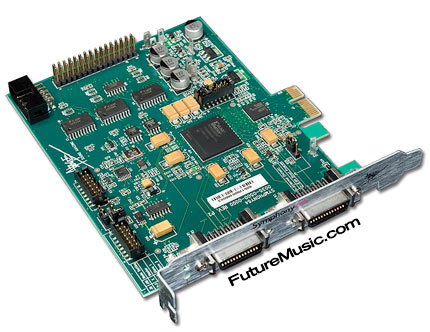 Symphony 64 features Extended Audio Routing with VBus and SBus technology. VBus allows users to route demanding, stand-alone software instruments, directly between Core Audio based applications, instead of running them as plug-ins. Symphony's SBus doubles the DSP power of The Symphony System by facilitating the communication of digital audio between Symphony equipped Macs with a single cable. Now it is possible to route audio to a second computer and back again for plug-in processing, sample libraries, soft-synth players, and session transfers from one Core Audio application to another.
Features:
» 64 channels of 24-bit 192kHz Digital I/O per card
» Up to 128 channels of I/O per Mac Pro
» Near zero latency performance
» Connects directly to Apogee's X-Series and Rosetta Series converters via the X- Symphony option card
» Apogee's VBus – virtual routing within a Core Audio application or between multiple applications.
» Apogee's SBus – 32 channel, 192kHz digital audio network between two Mac computers
» Apogee's Maestro Software for advanced control and routing
» Compatibility with any Core Audio application
Apogee's Symphony 64 PCIe Card will be available sometime this month for $995. Apogee is offering an upgrade program to customers who have purchased a Symphony 32 card 60 days prior to the release of Symphony 64 on October 3, 2008. All that qualify for the program can upgrade directly thru Apogee for $295. More information on the Apogee Symphony 64 PCIe Card.