Dave Smith Instruments Unveils Mopho
Dave Smith Instruments has unveiled Mopho, a tabletop mono analog synthesizer module based on the Prophet '08. According to Smith & Co., the voice architecture is identical to a single voice of the Prophet '08, but with a couple of unique twists. Two sub-octave generators were added, one per oscillator, for additional girth and crushing basses.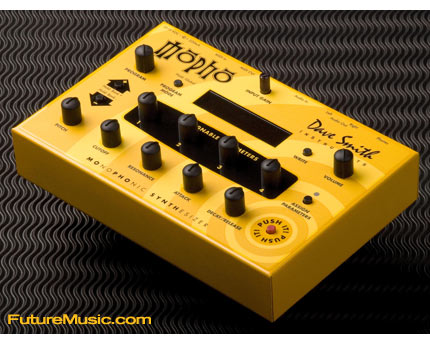 It also has an audio input that lets you process external audio and mix Mopho's own audio output back in pre-filter for feedback effects that can range from subtle to extreme distortion. The Push It button (Push it real good… –Ed.) is a manual trigger that lets you play a specific note or latch notes and sequences on. It can also step through a sequence to play short melodic lines without a keyboard. Of course, Mopho can also be used with a MIDI controller or external sequencer.
"The challenge was to deliver the renowned sound quality of a single voice of the Prophet '08 in a package that would be affordable for a much broader group of players and recording artists without sacrificing the performance features so important to making an analog synth really sing," stated Dave Smith, the company's namesake. To achieve that end, the user interface was pared down to certain essential controls and four user-assignable controls per program. The assignable parameters can control any of Mopho's parameters, so the synth is fully programmable from the front panel. Mopho also includes a basic software editor for Mac OS or Windows.
Never content simply to repeat himself, Smith wanted Mopho to be more than just a monophonic Prophet: "I wanted to give it a character of its own, something to distinguish it from its big brother." Each of the oscillators has a sub-octave generator; oscillator 1's is one octave down and oscillator 2's is two octaves down. Mopho also features an external audio input that allows processing of external audio sources as well as the ability to mix the output back in pre-filter for feedback effects. By varying the mix amount, feedback effects can range from a subtle distortion to completely trashed. "It has taken on a life of its own," enthused Smith. "It's an inexpensive, feature-rich mono synth that really excels at basses and big, fat lead sounds."
Dave Smith Instruments' Mopho is available now for $439. More information on the Dave Smith Instruments Mopho.