Surprise, Surprise, Stanton Officially Announces DaScratch Touchpad DJ Controller
Stanton Magnetics has officially announced DaScratch, a new multi-touch MIDI DJ controller, and part of the company's SC System controller line. Stanton completely fumbled the launch of this product by issuing a strict embargo on responsible press outlets, only to put up a sneak photo and preliminary information on their own site. In addition, a DJ site based in the UK showcased a clip of the new device in action from the basement of a beta-tester. Just a mess.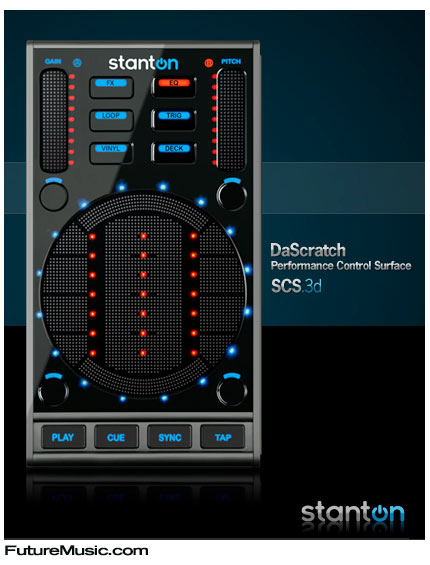 For a company that's got a lot riding on Fourth Quarter 2008 product announcements, Stanton is not off to a good start. The company has essentially been in disarray for several years with only their cartridge line holding up in the marketplace. We've been testing their new C.324 CD turntable, and while several of our evaluators have come away with mostly positive reactions, yet another CD turntable in the market is not going to make the industry stand up and take notice.
What has raised eyebrows is Stanton's new SC System 1. This high-resolution, modular MIDI DJ controller may provide a solution for a turntablist who is just not satisfied with the response of the current crop of digital DJ controllers on the market. While the SC System may provide the goods under the hood, the interface is certainly not breaking new ground. Unable to move beyond the mixer/platter paradigm, the SC System is stuck in the old school mechanics of the turntable, which innovators like Richie Hawtin, Sasha, Paul Van Dyk are all moving away from… (see Richie Hawtin describing his Traktor/Allen & Heath setup. –Ed.)
Aside from the ridiculous name, the DaScratch offers a unique proposition for controlling mix software, it can be used as an addition to any existing DJ gear set-up or can stand on its own as a complete controller solution. The DaScratch, or from now on the SCS.3d, since everytime I say "DaScratch" a little bit of throw-up gurgles up into the back of my throat, marks the introduction of Stanton's StanTouch technology, which allows DJs to use traditional performance motions and gestures on a multi-touchpad surface.
Stanton claims the StanTouch interface is highly responsive to current DJ mechanics such as scratching, scrubbing, as well as navigating through digital audio files. In addition, buttons, triggers, and virtual faders are able to control samples, pitch, effects, cue and loop points, and other mappable functions. Multiple finger touches can also prompt quick kills on EQ's or transform effects on volume. You can watch a demo of the SCS.d3 below:
Additionally, the DaScratch employs the Magnect connection system, allowing multiple SCS.3d units to securely snap together magnetically, creating a larger control surface with increased performance options. Although, this attribute is not fully promoted on their website, this could be the unit's big selling point since it can be seamlessly integrated into many different DJ setups.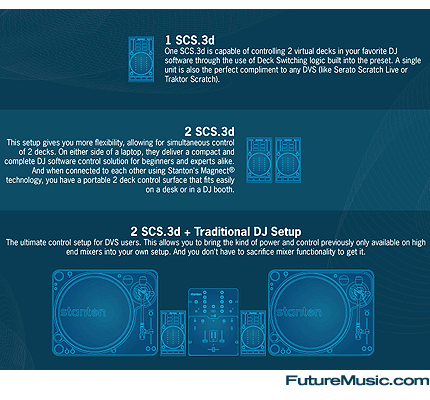 Specifications:
» 5 Touch sensitive sliders (3 switchable via presets)
» 1 Touch sensitive continuous rotary control (switchable via preset)
» 4 Backlit (red, blue) buttons
» 10 Back lit (red, blue, purple) touch sensitive buttons
» 9 Backlit touch sensitive buttons (switchable via preset)
» USB 1.1 and 2.0 class compliant MIDI controller – bus-powered
Another feature of the SCS.3d is the implementation of DaRouter software. DaRouter allows customized support and control over most DJ, DAW, and audio applications. DaRouter also enables DaScratch to provide two-way user feedback by illuminating LEDs to indicate the status of buttons, triggers, virtual faders, and transport controls. A preset library is also available on the Stanton website that supports popular applications such as Native Instruments Traktor, Ableton Live, and Serato Scratch Live.
For simple connectivity into any set-up or environment, DaScratch features USB connection, allowing easy plug and play connection to your software. The unit is class compliant with Windows XP, Vista and Mac OSX to ensure that drivers are never needed, and is bus powered by design to ensure that no external power or batteries need to be used.
The SCS.3d is a provocative, and affordable, solution for DJs who want to get into digital DJing, or add a controller to their current rig. The question that arises is what exactly is Stanton's strategy with their SC line, since the very traditional SCS.1 contradicts the SCS.3d's approach. This is reiterated by Jim Mazur, Stanton's Director of Product Development, in a quote from their current press release:
"With SCS.3d, we stepped back from the playing field and created something unique using emerging touch technology," states Mazur. "DJs are constantly looking for new ways to interact with their music. By studying their actions and creating a control surface analogy, we are able to bring some fresh ideas to fruition without being held back by traditional ways of interfacing with equipment."
The reality is that there is nothing traditional about the user interaction with the SCS.d3. Some of the concepts, such as EQ, may be the same, but if you watch the video, this is a very different experience. With the SCS.3d coming seemingly out of nowhere, what's up with the SCS.1 system that Stanton's been hyping for almost a full year?
We asked Timothy Dorwart, CEO of the Stanton Group, about the status of the SCS.1, after missing several delivery dates. Understanding that a lot is riding on the SCS.1, he informed us that the System One products will only debut "when they're absolutely ready for the market." Luckily for Dorwart, Numark's NS7 and EKS's exciting OTUS are also suffering delays. However, with the holiday buying season fast approaching, Stanton is running out of time.
Stanton also faces two more hurdles, price and professional DJ adoption. Stanton has publicly stated from the beginning that the SCS.1 product line will not come cheap. Will DJs pony up the big bucks for just increased resolution? That remains to be seen, and also hinges on whether several big name DJs adopt the products and put them on their riders.
The end of 2008 could be make or break for Stanton. With the Stanton brand name losing currency in the marketplace, product delays, and botched promotion, not to mention a US economy that's grinding to a halt, the question remains: can they deliver big?
Stanton's SCS.d3, or DaScratch, costs $299; no official delivery date has been announced. More information on Stanton DaScratch SCS.d3.