Lauten Audio Release Three New Microphones
Lauten Audio has released three new microphones, the Oceanus LT-381, the Clarion FC-357 and the Torch ST-221.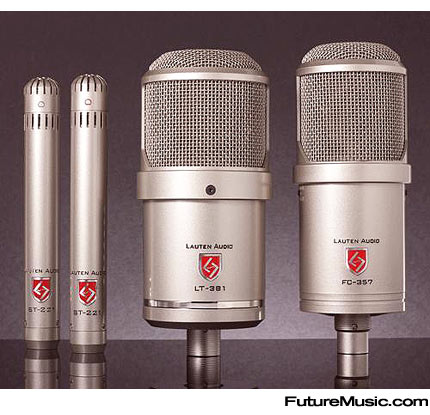 Oceanus LT-381
The Oceanus LT-381 features a newly designed large dual-diaphragm capsule, NOS military grade pentode input, transformer-less triode output, and variable omni, cardioid and figure-8 polar patterns. The Oceanus is a high-performance tube condenser vocal microphone that produces full and detailed recordings.
Torch ST-221
The Torch ST-221 is a small diaphragm tube microphone that is packaged in pairs. These microphones feature interchangeable cardioid and omnidirectional capsules, NOS military grade vacuum tubes and premium high-resolution electronics. The Torch combines the characteristics of the small diaphragm and the tube, making it an ideal choice for recording instruments. The package includes 21 components and accessories.
Clarion FC-357
The Clarion FC-357 is a solid-state multi-pattern large diaphragm condenser microphone. The microphone is a blend of classic and modern FET sound. It has class-A electronics and a dual-diaphragm capsule capable of omnidirectional, cardioid and figure-8 polar patterns. It also features a unique three-position attenuation and gain switch.
Lauten Audio's Oceanus LT-381 costs $1599; Torch ST-221 pair costs $1499; Clarion FC-357 sets you back $799. More information on Lauten Audio.