Slacker Releases G2 – Next Generation Portable Player
Slacker has announced their new Slacker G2 Personal Radio Player, the next generation of their portable Personal Radio player. Our editor-in-chief has been using the new G2 player for the past week, and has come away impressed. "If they would have released the G2 instead of that first generation brick, then the perception of the company would be completely different."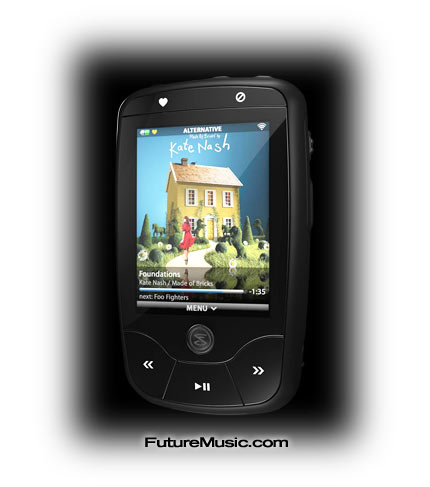 Slacker's biggest mission now is clear the stink left by the buggy, clunky first generation model, and let potential customers experience the Slacker Personal Radio ecosystem first hand. Slacker enables listeners to personalize over 100 expertly programmed stations and create, edit and share their own Personal Radio stations. Slacker listeners also have easy access to artist profiles, album reviews and cover art within the Slacker Web Player and on their Slacker Personal Radio Players. The software component of their Internet radio has always been a solid user experience, and now with a substantial portable, the company has put itself in a position to succeed.
For those unfamiliar with Slacker, their patent-pending radio delivery network automatically downloads and continuously refreshes thousands of personally selected songs on each device, and turns them into personalized radio stations – all for free – albeit with advertising. Because the players don't have to be connected to the Internet for streaming play, Slacker G2 owners can listen to 128 bit MP3 radio everywhere they go since the radio stations download to the player. Slacker incorrectly describes the music as "CD Quality" in their marketing materials, but that isn't exactly true.
There is no subscription required for Slacker G2 owners to access the extensive Slacker online music library, artist profiles, album reviews and large cover art, which is excellent, and way superior to Music Choice's profiles. The Slacker library currently consists of 2 million songs from many genres and eras. Slacker has previously announced licensing arrangements with all of the major record labels and publishers, and thousands of independent labels and publishers
Whether listeners choose from more than 100 programmed Slacker stations, over 10,000 artist stations, or their own custom-created stations, the Slacker G2 provides a music discovery experience without the need to manage playlists or download and transfer individual songs. The music discovery is what our Editor found extremely compelling. "Instead of listening to the same stale set of tracks on my iPod, I was able to discover new songs and bands with the G2."
With the G2, you can use the unit as both a digital music player and a radio, since you can transfer your own MP3's or WMA's to the unit for playback, giving you the best of both worlds.
Easily accessible "Favorite" and "Ban" buttons provide for quick personalization of each station while listening to the Slacker G2. In fact, their fine-tuning attributes for detailed personalization is what sets them apart from Pandora and Last.fm.
Features:
» Ultra Portable design
» Integrated Slacker Radio
» Completely portable, no network connection required to play
» Slacker personal radio stations automatically refresh over Wi-Fi or USB
» Over 100 expertly programmed stations
» Free Slacker Basic Radio and Slacker Premium Radio
» 2.4″ color screen displays artist profiles, album reviews and large cover art
» Favorite and Ban buttons enable personalization on the go
» Custom EQ and Volume Normalization options
» Available in 25 and 40 station capacities
» Standard 30-pin accessory connector
» Plays your existing music collection (MP3 and WMA)
» Up to 15 hours of battery life
The Slacker G2 comes with premium earphones, USB cable, power adapter, custom carrying case with removable sport clip and a quick start guide. Slacker listeners that order the Slacker G2 from www.slacker.com will have the option to have the player linked with their Slacker account and pre-loaded with their favorite stations free of charge.
The Slacker G2 Personal Radio Player is available now for purchase at their website for $199.99 (25 Stations, 4GB) and $249.99 (40 stations, 8GB). The Slacker G2 will also be available at select retail stores including Best Buy and select online retailers including Amazon.com and buy.com. More information on Slacker's G2.