AlgoMusic's Atomic – Creative Synth / Sequencer VSTi For Windows
AlgoMusic released Atomic, a VSTi Synthesizer and Sequencer for Windows last Spring. One of our staffers recently "rediscovered" this addictive little plug-in when he came to a "creative halt" in one of his compositions, and we thought we'd bring it to your attention once again since AlgoMusic's website fails to properly link directly to this dynamic instrument from their homepage.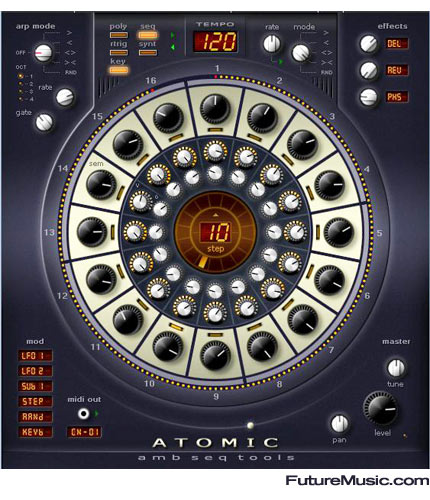 Atomic is essentially a creative 16-step sequencer that just happens to come with a built-in 2 Oscillator subtractive synthesizer. It can control other software synths, as well as hardware synths via it's MIDI out function, allowing its unique take on sequencing to be applied to the outboard gear world. You can also manipulate hardware from the two LFOs and the step modulator as well.
Dedicated to electronic music pioneer Allen Strange (1943-2008), AlgoMusic took inspiration from Future Retro Revolution's circular design, as well as the Buchla Arbitrary Function Generator, to create an interface that would instantly provoke the user to start tweakin'.
Features:
» 16-Step sequencer in a circular design with 3 rows: seminotes, velocity and gate.
» BPM Rate with 5 modes including random.
» Separate rhythm grid.
» Advanced arpeggiator with separate rate, 5 modes with gate and octave controls.
» Latch mode for continuous play.
» MIDI Out for use in modular hosts which also includes LFO's and step modulators to control external VST's or hardware.
» 2 Oscillators with 14 waveforms including additive partials.
» Separate phase controls, detune and octave as well as harmonic tuning mode.
» VCF with 4 filter types with velocity control.
» 2 dedicated envelope generators, one for amp and one for filter.
» 2 LFOs, Sub Oscillator, Step Modulator, Random Generator and Keyboard control with zone and mod wheel assign which includes sequencer controls for step and rate.
» Comprehensive mod matrix.
» X-Y delay effect with separate multimode filters which can be modulated via mod matrix.
» Spacial stereo reverb
» Phaser with wide sweeping range.
» Master section with volume, pan and tuning
» CC map for hardware MIDI knob controllers.
» Synth Presets designed by: Tim Conrardy and Boris K.
AlgoMusic's Atomic costs $39.99 and is available now. More information on AlgoMusic Atomic.