M-Audio Reveals ProFire 610 – FireWire Audio Interface
M-Audio revealed the ProFire 610 FireWire audio interface, a compact unit with advanced functionality, 24-bit/192kHz audio resolution, M-Audio Octane preamp technology and onboard DSP mixing in a bus-powered unit.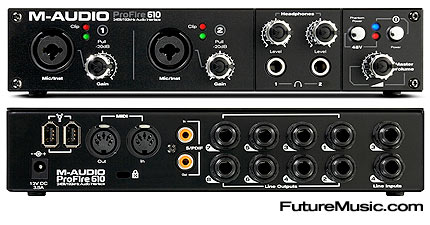 The flexible ProFire 610 audio interface was designed to facilitate the needs of diverse musicians and producers. Two preamps with Octane technology offer solid sound with low distortion. Multiple analog and digital connection options enable DJs and electronic musicians to use the ProFire 610 interface as the centerpiece of a live performance rig.
The onboard DSP mixer allows producers and musicians to create multiple, independent monitor mixes. Simultaneous 6 x 10 I/O gives sound designers and video editors the ability to create 7.1 surround sound mixes in 24-bit/192kHz audio resolution. The metal chassis allows users to take ProFire 610 on the road for mobile music production.
Features:
» Up to 24-bit/192kHz for high-definition audio
» Onboard DSP mixer
» 2 preamps with M-Audio Octane technology
— 73dB gain range
— 48V phantom power
— 20dB pad on each preamp
— signal/peak LED indicator lights
» 6 unique inputs including:
— 2 XLR/TS combo jacks for mics or instrument level inputs
— 2 1?4" TRS balanced line inputs
— stereo S/PDIF in
» 10 unique outputs including:
— 8 1?4" TRS balanced line outs
— stereo S/PDIF out
» 2 1?4" TRS headphone outputs with independent volume controls
» built-in 1 x 1 MIDI interface
» 2 FireWire (IEEE 1394) ports
» JetPLL jitter elimination technology for stable synchronization
» standalone operation as 2 mic pre/2-channel A/D-D/A converter
» user-assignable master volume knob for total control over output levels
» powered via FireWire bus or external power supply
» half-rack-space form factor fits in Universal Rack Tray
» compatible with most major audio software
The M-Audio ProFire 610 interface will be available sometime in the fall and cost $500. More information on the M-Audio ProFire 610.