Logitech Announces Squeezebox Boom – Network Music Sound System
Logitech has announced the Squeezebox Boom, an all-in-one network music player.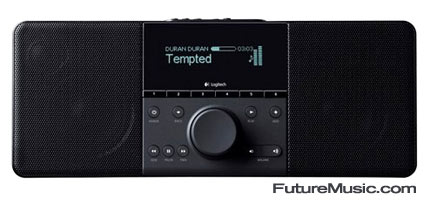 With the Squeezebox Boom, you can listen to your digital music in the kitchen, the bedroom or any other room in your home without needing to attach external speakers. Just plug the new Logitech network music player into a power outlet – there are no additional wires to connect. Then, using your existing home network, you can listen to the music you love from the personal collection on your computer, your favorite Internet radio stations, and subscription services such as Rhapsody, Last.FM, Slacker, Pandora and Sirius – even when the computer is off.
For different music in another room of your home, you can easily expand your Squeezebox network music system. Simply add additional Squeezebox Boom players in any room you like or, if you already have an existing stereo system, add another player from the Squeezebox family to your network music setup, including the Squeezebox Duet network music system.
Upon registering your Squeezebox Boom network music player, you can access thousands of radio stations and millions of songs, aggregated by SqueezeNetwork – Logitech's free, online service – without having to remember Internet addresses or passwords. So you enjoy an optimized wireless-network speed and a secure connection, Squeezebox Boom uses true 802.11g wireless technology and dual internal antennas.
To fill your room with sound, the Squeezebox Boom network music player offers an integrated, all-digital 30-watt amplifier accompanied by two 3?4-inch, high-definition, soft-dome tweeters and two 3-inch, high-power, long-throw woofers. A bi-amplified design – which includes a high-performance signal processor, class-D amplifier and digital crossover – delivers crystal clear sound with minimal noise and distortion. For bass lovers, the Squeezebox Boom even includes a subwoofer connection. And if you want to listen to music in private, the 3.5 mm jack lets you plug in your headphones.
The Squeezebox Boom network music player also works as an alarm clock and can wake you up to your favorite tunes. Six preset buttons, located under the display, make it easy to get to your favorite song, Internet radio station or playlist.
The Logitech Squeezebox Boom will be available sometime in September for $299.99. More information on Logitech Squeezebox Boom.