Machinecollective Readies New DIY Controllers
The Machinecollective, a new initiative by XNDR Industries, is readying an array of new MIDI controller parts for enthusiastic Do It Yourselfer's who want to develop their own interfaces.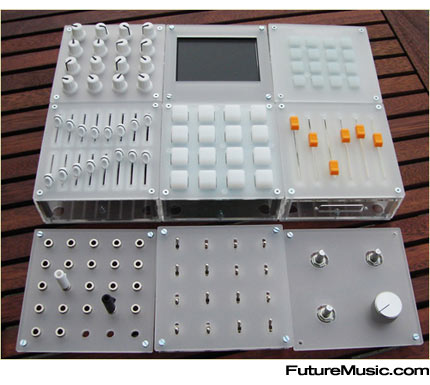 XNDR, a small multidisciplinary design studio from The Netherlands, reveals that "the project is all about physical computing, hardware prototyping, (remote) personal manufacturing, human/machine interaction and control surface development. Machinecollective is you, me and the machines, connected through this online community. Machinecollective is a public experiment, with community driven open source hardware as a foundation for further exploration and development."
Sounds perfect for the underground Controllerism movement that's making waves in select communities around the world.
XNDR originally hoped their prototyping modules would speed up development of physical interfaces and control surfaces. But then opted for a modular system, a mix between a breadboard, a printed circuitboard and a finished control surface, for a more versatile and flexible solution.
However, during the development of the modules XNDR realized that such a system could never be flexible enough for everyone, so they decided to launch Machinecollective as a community driven open source hardware project. Their initial focus will be deployment and further development of the prototyping modules and their on-demand manufacturing service, but they have several new and exciting projects planned for the near future, and hope to be continually inspired by the community they are developing.
The initial Machinecollective products will be available sometime in September; no pricing has been announced. More information on the Machinecollective.