Soundcraft Readies Si3 Digital Live Console
Soundcraft is readying its new Si3 digital live sound console for its official premier at the PLASA show. The first model of a brand new line, the Si3 was conceived as a plug and play replacement for a conventional mid-format analog console.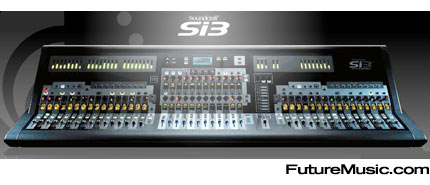 Soundcraft has revisited the control topology employed on the ground-breaking Spirit 328 and 324 digital consoles, and made it even easier. The model is this – above each fader is a rotary encoder, the function of which changes according to the mode selected. This 'bank' of encoders, known as the VCS or Virtual Channel Strip can be set to control every function of a channel (known as Channel mode), so mic gain, EQ, dynamics, auxes, panning are all controlled as if you had a normal analogue channel strip laid sideways in front of you. The VCS also incorporates all the switching you would find on an individual analogue channel strip (48v, Phase Reverse, EQ In etc.). Alternatively, in what is called Global mode, each encoder controls the same function for each channel. So, for example, the encoders could control all the mic gains, pans or a chosen Aux bus (very useful for creating monitor mixes).
Features:
» 64 inputs, 4 stereo inputs, 24 bus outputs
» 8 matrix outputs, 12 VCAs, 8 mute groups
» 4-band fully parametric EQ with high and low cut filters
» On-board dynamics
» Four independent Lexicon processors
» A physical output and meter for every bus
The Si3 has 64 physical mic/line inputs, 24 buses and eight matrix outputs. Each bus output has a dedicated physical connection and metering. The technology Soundcraft developed for the mixer is dubbed EMMA, Embedded Multi-processor Mixing Architecture. Essentially it's a console on a board, enabling Soundcraft to provide different platforms depending on how much I/O is required. Local OLED blocks at each encoder provide information like channel names, current encoder function, metering and status. The Si3 uses a single encoder knob and fader per control strip.
The Si3's four modular rear panel I/O modules each have 16 inputs and eight outputs, with a central I/O panel handling such signals as the main output buses, assignable analog insert I/O and external stereo playback device input. In addition, Lexicon signal processing units are built-in to the Si3–four of the same units employed on Soundcraft's Vi6. The few options available for the already full-featured desk will include power supply redundancy, a UPS back-up and, for four option slots, cards to handle additional interfaces like MADI, CobraNet and I/O suitable for direct connect to digital stage boxes and headphone systems. Harman HiQnet connection is, as one would expect, standard.
Two 16-channel fader sections sit either side of center, each controlling 32 channels of input. In a "Global" mode, the encoder and corresponding OLEDs for each strip control the identical functions for each channel, allowing a quick view of pans, bus sends, mic gains and so forth across each input channel. In the "Channel" view, the full range of controls — gain, pan, EQ, dynamics, etc. — for a selected channel are laid out across the 16 encoders and displays.
12 faders and two rows of 12 encoders and displays allow control of various functions, including parameters of the Lexicon processors. In the center section, 12 faders and two rows of 12 encoders and displays allow similar control of output and VCA group functions, and the parameters of the Lexicon processors. Soundcraft's FaderGlow illuminated fader tracks change illumination color by function for a quick indication of whether the faders are controlling groups, VCAs, mute group assignments or channel levels.
The Soundcraft Si3 is expected to ship worldwide in the beginning of 2009. Price is expected to be around $50,000. More information on the Soundcraft Si3.