Sennheiser Announces e 965 Large-Diaphragm Condenser Microphone
Sennheiser has announced the evolution e 965 microphone, a large-diaphragm condenser microphone.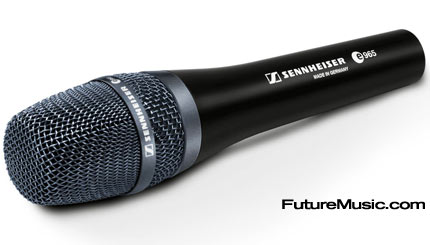 A completely new capsule architecture was designed for the e 965 to produce what Sennheiser claims is a "detailed, yet warm, full sound, with a wide frequency range, extensive dynamics, and low distortion, and offers the mic optimal protection from humidity, so that it's rock-solid even during very heavy stage use."
The e 965 also features a dual-diaphragm transducer, which allows users to switch between cardioid and super-cardioid pick-up patterns. When the volume on the stage is loud, for example, the vocalist can select the tighter pattern. For high sound pressure levels, users can switch on a pre-attenuation of -10dB. A low-cut filter effectively eliminates impact noise and reduces the low-frequency overemphasis during close miking. Handling noise is efficiently reduced by the shock-mount design, and an integrated pop shield and windshield reduce plosives.
The Sennheiser evolution e 965 will be available in September 2008 for $878.00. More information on the Sennheiser evolution e 965.