Endless Analog Readies CLASP – Tape Signal Processor
Endless Audio is readying their new CLASP, Closed Loop Analog Signal Processor, for its official release on September 15th. Endless claims that CLASP bridges the gap between analog tape and digital recording, "changing the way music is recorded forever."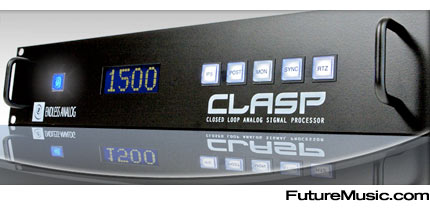 A big claim, indeed. Endless Analog has developed and created a new product provides the warmth of analog tape recording by simplifying the process. No more time code, transfers, buying multiple expensive reels of tape, or worrying about storage and archiving. Now you can have the warm and expressive sound of real analog tape combined with the speed and editing capabilities of your DAW.
The basic idea behind CLASP is to achieve all the benefits of analog tape warmth within the normal workflow of your digital audio workstation.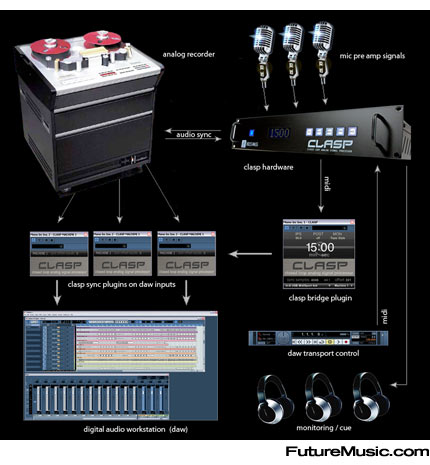 According to Endless Analog founder Chris Estes, the two basic components of the CLASP system are a hardware interface and control unit, and a companion VST plug-in. Rather than making analog connections directly to the A/D converters feeding the DAW, the signals are first connected to CLASP, which is interfaced with an analog tape machine. When a track is armed inside the DAW, the VST plug-in automatically sends track-arming and transport control information via MIDI Machine Control (MMC) to the tape machine through the CLASP interface. When any DAW track is armed, pressing Play on the DAW rolls the tape machine, and when Record is punched in, corresponding tracks on the tape machine enter record. Armed tracks are recorded on tape and the playback head signal is then immediately fed to and recorded by the DAW.
Endless claims that CLASP has been used successfully with a Studer A827 and A800, and an Otari MTR-90 and MX5050 two-track. Endless believes that as long as a tape machine has a rear panel control port, they can ship CLASP with the appropriate cable. In addition, CLASP will reportedly work with any DAW as long as it supports VST and MMC.
Endless Analog's CLASP system, which includes the control chassis, interface cable and plug-in software is expected to cost around $7000. More information on Endless Analog CLASP.