Weekend Fun: Booster Blades
From the "How To Kill Yourself In 30 Seconds" file, comes Booster Blades, a self-propelled, inline skate. Booster Blades incorporate an innovative drive mechanism that scored a silver medal at the Geneva Inventors Exhibition for innovation and design.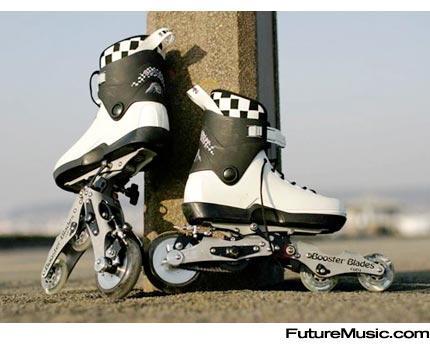 To skate you push down in a natural stepping or pedalling motion in order to gain speed. If you move your heel back, this engages a brake pad, to enable you to slow or stop easily and safely. The design is based on a simulation of the pedalling stroke of a bicycle. The boot plate tilts forwards as the foot is lifted, which follows the natural angle of the foot as the knee is bent, so that the rider's weight stays directly over the drive mechanism.
Each pair of Booster Blades is manufactured by Jetway Associates; a UK based engineering company near Bath, Wilts.
Booster Blades are currently available directly from the manufacturer and cost £299. More information on Booster Blades.