Amidio Readies Noise.io – iPhone/iPod Touch Synthesizer
Amidio is readying Noise.io, one of the first synthesizers for the iPhone/iPod Touch platform. Noise.io features ESFM (Enhanced Subspace Frequency Modulation) synthesis that is capable of producing a variety of sounds and sonic effects.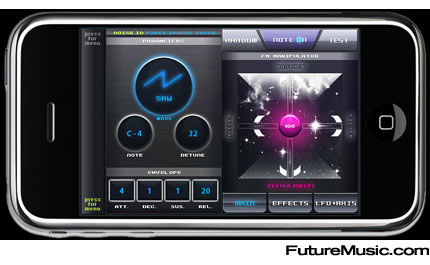 Amidio claims creating sounds on the iPhone using Noise.io is a simple affair. The user just slides his fingers over the touchscreen interface, creating sounds that modulate in realtime. Three control axis are available – Up/Down, Left/Right and In/Between (the "pinching action"). Amidio also incorporates the iPhone's Accelerometer to control various sound parameters, although apparently it's more for fun than true synthesis control.
The resulting sound can be synced to BPM via TapBPM function and can be enchanced with sound effects like chorus, delay, flanger, etc. Noise.io comes with 81 presets and a preset editor that allows creating user patches.
The company has another 2 projects in the same field: Didjer.io, an iPhone dijeridoo emulator, and Flute.io, an iPhone flute emulator. There projects are in early alpha stage and are slated for release in the near future. A VST version of Noise.io will be released by the end of 2008.
Amidio's Noise.io will be available exclusively via Apple's AppStore on August 25th for $6.99. More information on Amidio Noise.io.