Neuenberger Updates JellyFilter To Version 3.0
Neuenberger has updated JellyFilter to version 3.0. The third incarnation of their free, realtime software synthesizer with filters, effects, envelopes plug-in for Windows now includes a third oscillator, Legato Mode, Lo-Fi "Distortion", either 12 dB or 24 dB Filter Steepness, Sample and Hold for LFO Modulation, Exponential or Linear Envelopes and a Fast/Slow Modulation Envelope.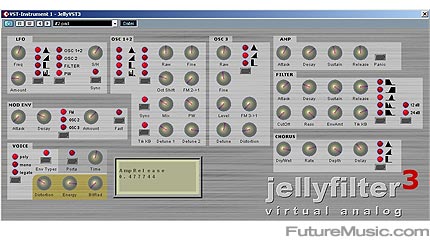 Enhancements:
» Added third Oscillator which can be used as sub-bass or additional FM source to Oscillator 1. It also has its own additional Distortion
» A standard Chorus to fatten the sound even more. The Chorus can be adjusted by Dry/Wet, Rate, Depth, Delay and Type (Triangle, Saw, Square).
» For 303-type sounds there is now a new Legato mode: This will not restart the envelopes until the voice is completely released which can be useful for smooth crossovers between different notes
» For Lo-fi enthusiasts there is a Bit Reduction (BitRed) functionality that can reduce the information down to 2 bits. Old Digital-sounding Video-Console sounds can be created with this easily.
» Filters can be set up either to 12 dB or 24 dB steepness (allows the user to produce "warmer" sounds with the 12 dB option)
» The LFO Modulation has been accompanied with a Sample Hold (S/H) functionality that can be synchronized to the tempo of the music
» Envelopes for Amp and Filter now can be switched to exponential as well. This results in even smoother envelopes
» The Modulation Envelope ("Mod-Env") can be fast or slow
Neuenberger's JellyFilter 3.0 for Windows is available now and free. More information on Neuenberger JellyFilter 3.0.