MXL Unleashes Studio 1 – USB Condenser Microphone
Marshall's MXL division has released the Studio 1, a portable USB condenser microphone for the home recording and podcast market.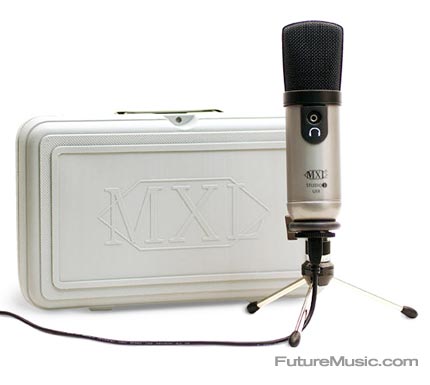 MXL claims that due to its low noise and solid sound, the Studio 1 is well-suited for music training, field recording, spoken word recordings, podcasting and multimedia voiceover tasks. Unlike other products that require mixers, preamps, or expensive studio gear, the MXL Studio 1 does not require any special drivers and is completely "Plug & Play" for instant use with any PC or Mac computer. Simply plug it in to your portable or desktop computer via the USB port, set your preferences, and enjoy instant studio-quality recordings.
The Studio 1 also has an integrated headphone jack which provides zero latency monitoring and clear audio playback not found in similarly priced USB microphones. This zero latency feature provides a more accurate recording when doing voiceovers and Internet recording such as podcasts, interviews, and personalized radio or playlists.
This new microphone uses the best of both analog and digital technology in its compact and portable design. The Studio 1 features a large two-micron diaphragm condenser capsule with a 40 Hz-20 kHz frequency response. The digital section features a 16-bit Delta Sigma A/D converter with available sampling rates of 44.1 kHz and 48 kHz. A red LED light behind the protective grill indicates that the microphone is active and correctly oriented toward the user.
The MXL Studio 1 includes a hard black plastic carrying case, desktop microphone stand / adapter, 10-foot USB cable, user's manual, and an application guide.
MXL's Studio 1 costs $129.95 and is available now. More information on the MXL Studio 1.